"Lantz"





Rescued: June 16, 2002

Adopted: March 9, 2003

Passed: August 2, 2010
Lantz bounced out of two adoptive homes in 2002 due to his over-protectiveness, then found his salvation with Scott & Lima Cranford. Though Lantz nipped a few people along the way, Scott & Lima saw that Lantz was a good dog at heart, and were committed to helping him overcome his overprotective behavior. Sure enough, after awhile they brought Lantz around so that they could trust him with most anyone.
Lantz was one of my favorite dogs when I still had him, and I always lo
oked forward to boarding Lantz here at the GSRSV facility when the Cranfords went out of town. I would meet Scott (at right with Lantz) at a park midway between our two homes, and Lantz would eagerly jump into my truck for the drive back to Pleasant Grove, face in the breeze.
Lantz loved the water, and would make a beeline for the ponds at the GSRSV facility whenever the Cranfords boarded them here. He was a very social dog, with both the other GSRSV dogs and with people who came by.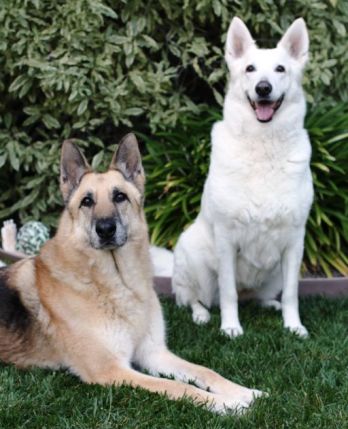 Lantz loved his White GSD "girlfriend" Pearl (in photo at left), and she really looked up to him. Pearl was on the timid side, and when she and Lantz were at the GSRSV facility, she'd look to him for emotional support.
Lantz was truly a member of the Cranford family, and his picture--as well as Pearl's--graced each of the Cranford's holiday greeting cards. (That's Lantz in the 2009 card, upper right, and daughter Raina upper left.)
I, for one, am grateful to Scott and Lima for having the faith to stay with Lantz when others wouldn't. It is a reflection of Scott and Lima's characters that they could see beyond Lantz's initial behavioral problems and that they were able to bring him around to be such a well-adjusted, happy dog.
I, too, miss Lantz, but for Scott, Lima, Raina and Pearl,
they've lost a piece of their hearts.
Brian Foran, GSRSV