German Shepherd Rescue of Sacramento Valley
Picture/Story Scrapbook
This page is dedicated to the dogs that people have adopted from GSRSV, their guardians, and their canine companions. Share the love that you have for your GSD/GSD mix with others!
Feel free to submit your own picture or story that you'd like to share on this Website to Brian Foran at bab43@msn.com. Please try to keep picture file sizes to 2 MB or less.
Kids & Dogs--A Natural Pairing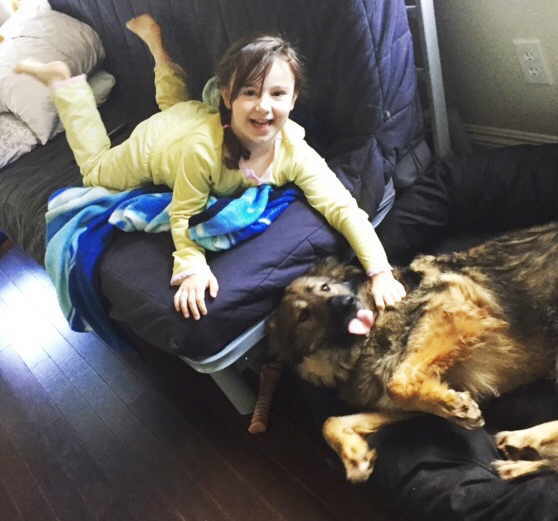 Can pictures get any cuter than these?
That's Ariel & Lana (adopted 10-9-16) at left, and Annabelle & Tazz (adopted 3-24-17) at right.
Puppy Love!
Garth's Awesome Adoption Update!
Garth, a then-2-yo male GSD that GSRSV rescued from the Stanislaus County Shelter 11-6-15 (adopted 12-12-15), sent me this awesome picture book telling how happy he is with his adopters, the Christensens of Antioch. Katie, one of the two Christensen daughters, helped Garth handle the pen! Thanks for the good news, Garth!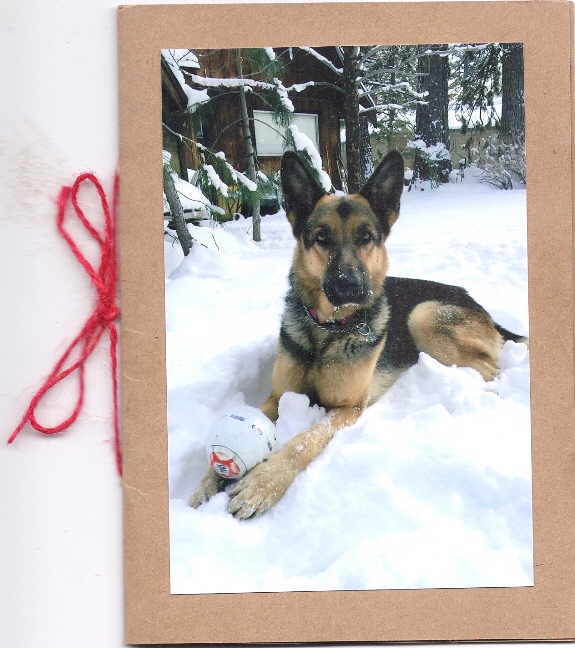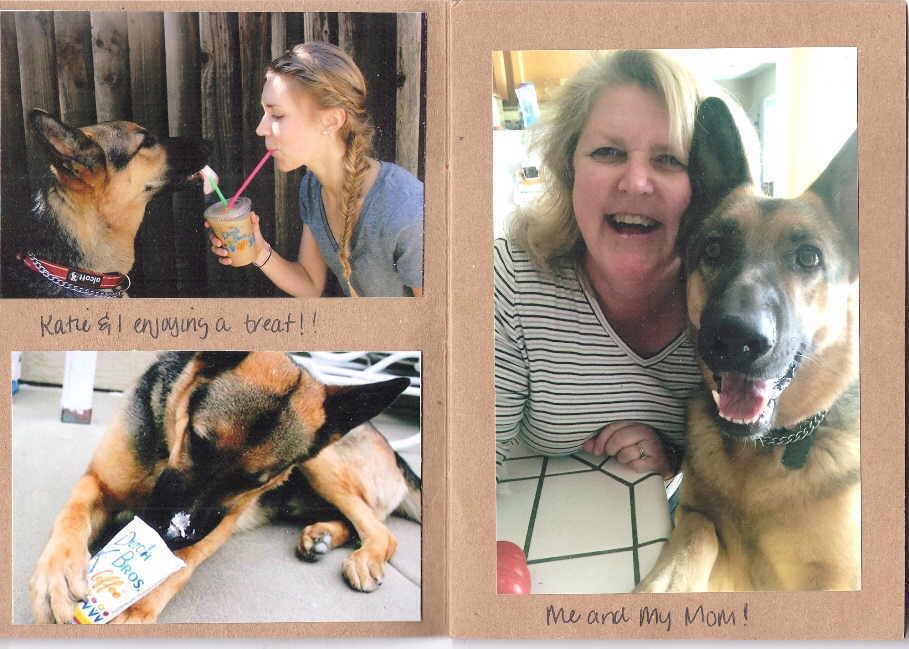 Ready for a Good Cry?
The 11-minute film "Unleashed Love", created by animal trainer Steven Ritt and film maker Andy Madison, will likely leave you tearful but inspired just the same. The film, viewable online at TheAnimalNetwork.TV, celebrates not only the bond between people and their dogs, but even more so the bond between two dogs. Plus, the soundtrack is enchanting.
TheAnimalNetwork.TV is "dedicated to educating and enlightening people about animals, animal issues, and rescue thru creating and delivering unique programming for animal lovers everywhere." Though it is a for-profit enterprise, 15% of all proceeds go to animal rescue.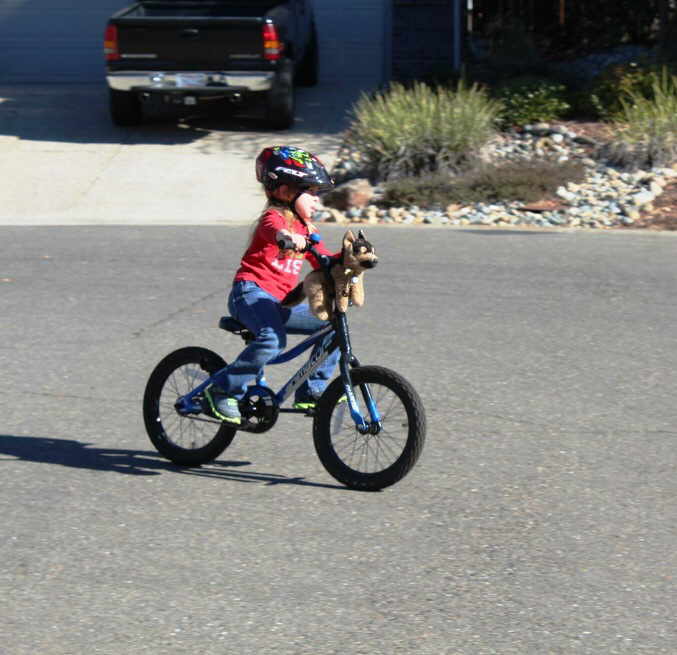 Have "Shep",
Will Ride!
That's 5-yo Rowan Turner-Hinaman taking her first bicycle ride on two wheels in 2013--led by her faithful GSD stuffy "Shep."
Three years later, Rowan (third from left in photo at right) and her family adopted Zaila from GSRSV.
Another GSD-lover for life!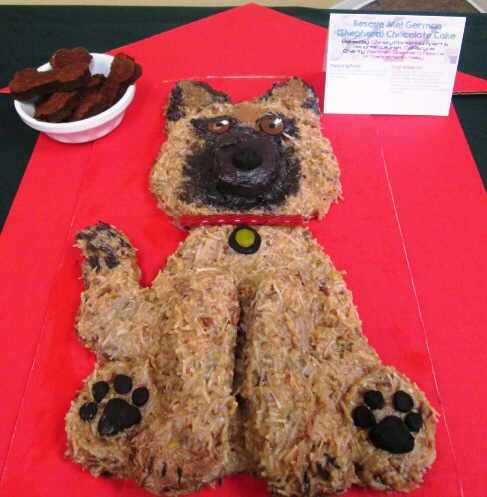 Let them Woof Cake!
(posted 9-22-16)
Lauren Humpbert, an 8th grader at the Sacramento Waldorf School, created and baked the uber-cute cake at left (with help from her mom, Christy) to raise funds for GSRSV. Christy, an employee with the State agency Cal Recycle, entered the cake in a silent auction 9-13-16 held at Cal Recycle's headquarters in Sacramento in conjunction with a promotional event for the Calif State Employees Charitable Campaign.
Lauren chose animal rescue as the topic of her 8th grade project. She is working in conjunction with both GSRSV and El Dorado County GS Rescue.
High-five to Lauren for choosing to focus on animal welfare for her class project.
Happy 16th
Birthday to Rocky,
a 2004 Adoptee!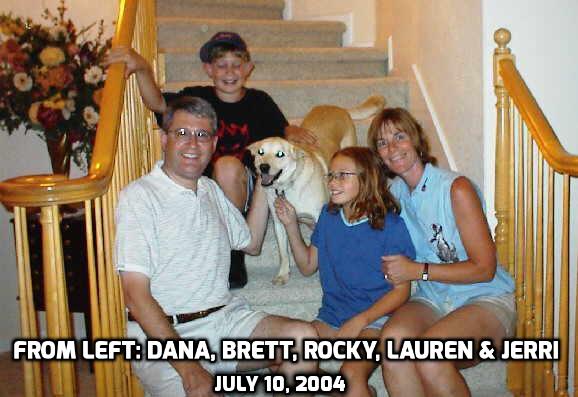 Here's something to celebrate: Rocky, a GSD/Terrier/??? mix adopted from GSRSV by the Davis family of Roseville (now in Land Park) on July 10, 2004, turned 16 years old on June 1!
Rocky is still spry and still goes for daily walks. He is very much loved by all of the Davis family, but especially Lauren (now in her third year at Colorado State Univ) and her mother Jerri.
Lauren used to volunteer at GSRSV's rescue ranch, and Jerri slaved through the process of applying for GSRSV's non-profit status.
Thank you to the Davis' for giving Rocky such a long, happy life.
For me?

Well, if you insist.

I can't believe I ate the
whole thing!

More, please?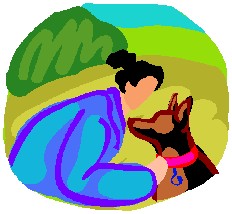 Dog Heroine!
Liz Fabian is a tireless rescue volunteer who has pulled and transported hundreds of dogs from the Stanislaus County Shelter in Modesto for multiple rescue groups throughout California and the Western U.S.
On Jan. 28, 2016, Liz asked me to rescue the male GSD at left (who I named "Lucky"), because another GSD rescue group had turned it down for what they interpreted as "severe dog aggressiveness." That was the death sentence for this dog as the shelter could not give him a further extension having already been passed up for rescue, and he was scheduled to be euthanized the following day.
Though I rarely take other rescuer's evaluations at face value, I was hesitant to rescue Lucky because of the circumstances surrounding the foster home I had available. So I passed on Lucky, even though I knew he was going to be euthanized.
Liz somehow found a way to have the shelter give Lucky a 24-hr reprieve, and went to the shelter to evaluate Lucky herself. The video that she took of Lucky and another dog speaks for itself. When she e-mailed me the video of Lucky, I immediately agreed to rescue him.
Liz's faith in Lucky and her persistence saved Lucky's life--no two ways about it. Lucky is now in a foster home in East Sacramento, gets along great w/ the male dog there, and already has adoption interest from the next -door neighbors.
Thank you, Liz, for going the extra mile to save Lucky's life. He's a great dog! (Update: Lucky was adopted on 3-26-16, and he's doing great in his new home in Hawthorne, NV.)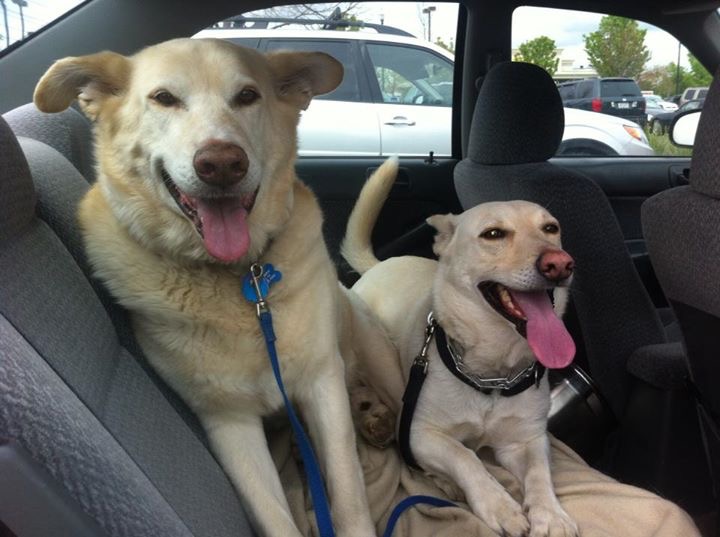 Read a heart-warming letter from "Polar" (the dog on the right in the photo, along with his buddy Sampson). Bethany adopted Polar through GSRSV on
April 6, 2013.
Click on this link.
(posted 4-11-15)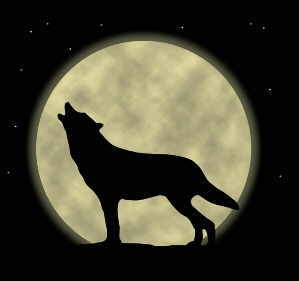 A Howling Thank You to Joe and Karrie Fonseca of Vallejo for Rescuing "Pepper" (April 2012)
Update: October 2015
Joe and his wife Karrie continue to keep in touch w/ Seth and occasionally go up to Lake Tahoe to visit Logan (formerly Pepper), bringing lots of goodies with them.
The picture at right is of Joe and Logan at Seth's place on 10-11-15.
"Pepper" was a 10-mos old purebred black GSD whose life would have been truly tragic had not Joe and Karrie Fonseca gone out on a limb and saved him. Joe & Karrie's neighbors had purchased Pepper as a puppy and didn't know what they were getting into. As Pepper grew and became more and more energetic, the petite woman next door became afraid of him. The neighbors ended up keeping Pepper in a crate, rarely letting him out other than to eat and relieve himself. The Fonsecas were bothered by Pepper's isolation, and also justifiably concerned that Pepper's confinement would adversely affect his growth.
The Fonsecas approached their neighbors and offered to exercise Pepper and give him some time outside his crate. The neighbors agreed, and soon the Fonsecas were walking Pepper daily.
The Fonsecas convinced their neighbors to let GSRSV find Pepper a new home, and on April 23, 2012, brought him all the way out from Vallejo to my place in Pleasant Grove for me to evaluate him. Along the way, they convinced their neighbor to let Pepper stay on a long lead rather than in the crate, and had the neighbors bring him to a clinic for his vaccinations.
As time went on, the Fonsecas grew very fond of Pepper, and couldn't bear to even return him to their neighbors' yard to put him back on the lead. Though the Fonseca's yard is not that big, and though they have several indoor cats that Pepper clearly would go after given the chance, they went ahead and brought him into their yard full time. They had Pepper neutered at their expense, and even purchased a chain link kennel to keep him in at night.
On July 13, 2012, Seth Heesy of North Lake Tahoe adopted Pepper. The
Fonsecas sent Pepper (now named Logan) off with well over $200 worth of food, supplements, toys and bedding. Logan is now living a dream life of hiking, swimming, and going most everywhere with his new owner in the mountains.
Many people, especially those with cats, would have been afraid to take on a "project" like Pepper. The Fonsecas not only had the fortitude to work with their neighbors, but were willing to give Pepper a temporary home to build his muscles back up, in spite of the fact that he did not get along with their cats.
Both Seth and I are just amazed at how much the Fonsecas did to turn Pepper's life around, and are truly grateful to them.
From Miserable.....





Sac County Shelter
ID #536889, 11-20-10

to Magnificent!

"Jager", Mendocino Coast, 1-22-11
Adopted from GSRSV by Lisa Underwood, 1-16-11

&nbsp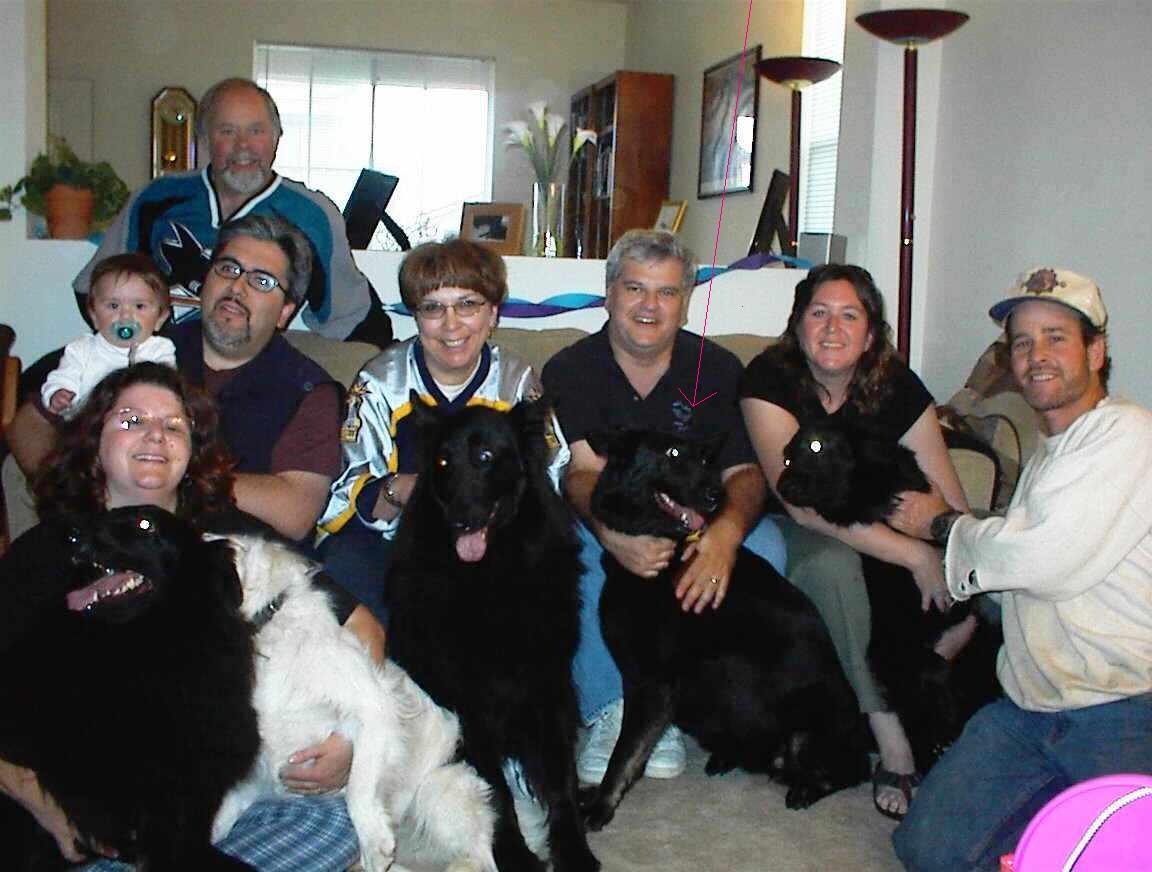 The Friendship Circle
of Zelda and Her Pups
Read about how the rescue of a GSD (Zelda) and her five puppies in 2001 led to an annual get-together for three of the adopting families and the rescuer. (Click on title above.)
RUFUS ADOPTED 1-08-08--
Thanks, Bob Warner!

Talk about a big heart!

"Rufus", a 9-yr old male GSD living at GSRSV's rescue facility since 2006, was diagnosed with bone cancer on 10-2-07. Other than some soreness in his left rear leg with the cancer, Rufus was still very healthy. However, I knew Rufus would benefit from a home where he would receive more one-on-one attention than I could provide him.

Though the odds of anyone adopting a 9-yr old dog with possibly terminal cancer were slim, I ran a special adoption appeal for Rufus. Bob Warner, from rural Plumas County, responded to the appeal, met Rufus on Dec. 21, 2007, and adopted him on Jan 9, 2010. On top of that, he gave a donation to GSRSV!

Maybe it was Bob's good karma, because Rufus turned out to NOT have bone cancer after all. (The diagnosis was made by X-ray, not a biopsy.) Rufus ended up living over two more years, hiking with Bob in the woods behind his home and traveling with him in his truck.

Yes, there are big-hearted people out there. Thanks, Bob!
| | |
| --- | --- |
| That's GSRSV dog Hank (right, adopted 9-29-06) driving GSRSV dog Miss Shasta (left, adopted 5-27-05). Submitted by Tom Guerra, October '07. | GSRSV dogs Diesel (center) & Wendy (right), both adopted , 2-25-07, with Sugar (left). Submitted by Fred & Angela Lauridsen of Pollock Pines. Taken at Sly Park Reservoir, Summer '07. |