The Friendship Circle of Zelda and Her Pups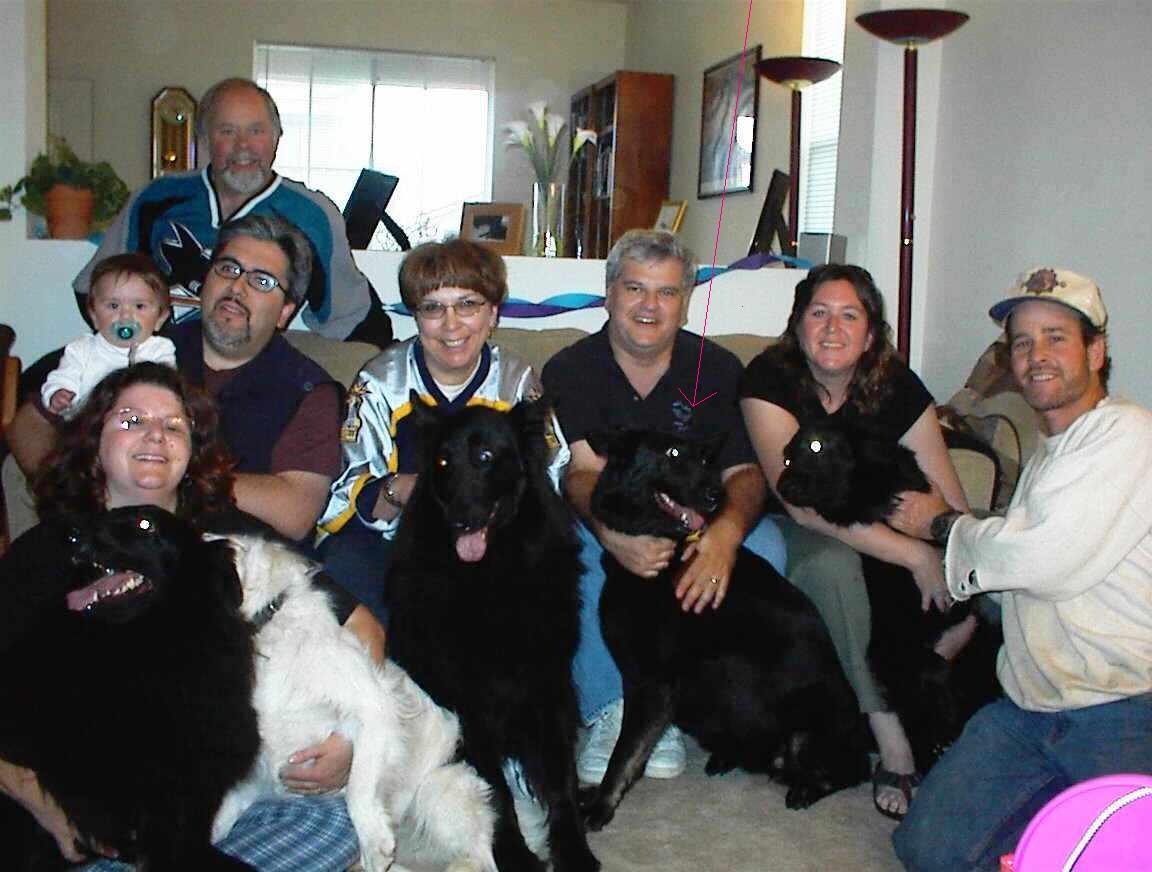 In early April 2001, GSRSV received a request from the Sacramento City Shelter to rescue a female German Shepherd who had just given birth to five puppies.
On April 14, Brian (GSRSV's director) picked up the mom, who he named Zelda, and her five pups. The father of the pups was unknown, so it would be awhile before the pups' genetic makeup would be known. It turned out that the pups' dad was likely a Belgian Shepherd, as three of Zelda's pups would grow up to look like purebred Belgians.
The next four weeks were magical, as the pups grew from little squealing black fluff balls into inquisitive, wrestling puppies. Zelda was an awesome mother to the pups, never denying them a moment to suckle and always looking after them. Brian's neighbor Cynthia McKeith provided much-needed exercise and nursing breaks by walk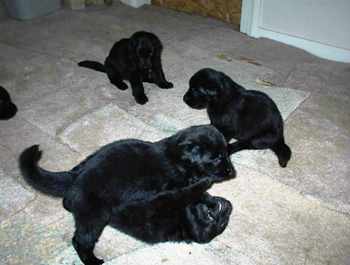 ing Zelda with her young daughters while Brian was at work.
Brian was spellbound by the puppies growing up, having never witnessed such a spectacle. He was so intrigued by Zelda and her pups that he routinely video-taped them during their first four weeks.
Soon, the pups had outgrown their dining room habitat, and it was time to move them to a place where they could run a
round. (Brian had other dogs at home at the time and didn't want to leave the pups unattended when he was at work.) So, Brian loaded the pups into his truck and brought them to the home of Cindy & Tom Matthews of Carmichael, who had responded to a Web appeal to foster Zelda and her pups.
The pups flourished in the spacious backyard of the Matthews, and before long they were 8 weeks old and ready for adoption! One by one, people came to adopt the pups. (Two of the adopters--those of Newt and Bernadette--had selected their pups while the pups were still at Brian's house.) When all the pups had been adopted, Brian took Zelda to his house.
Sharon & Peter Davies of West Sacramento adopted the female pup they named "Newt" (pictured at right with the Davies' dog "Ripley").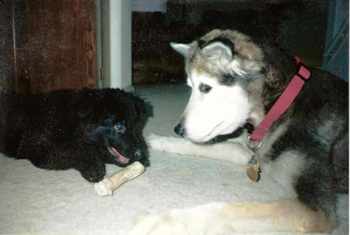 The Davies became so enamored of Newt that they wanted to share their joy with the adopters of Zelda's other pups. So, they arranged to have a one-year reunion of Zelda, the pups and their adopters at a dog park in Sacramento. Three of the five pups and Z
elda made it to that reunion in April 2002. (Pictured left to right are Peter Davies with Newt, Sharon Davies with Zelda, and Gil & Lori Topete with Bernadette.) Brian, who still had Zelda, hastily asked the Davies if they would keep her over the weekend, as he was heading out of town. A weekend watch turned into an adoption, as Zelda and her daughter Newt were happy to be back together and the Davies wanted to lighten Brian's load!
That first-year reunion was so rewarding that the Davies decided to repeat it the following year--this time at their house. The "Puppy Birthday Party", as it became known, was a hit and was a good opportunity for dogs and dog lovers to get together for good food and fun times. (And I repeat: GOOD FOOD!!)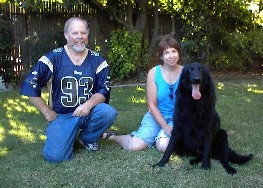 As fate would have it, the adopters of one of Zelda's pups (Ranger) had to return him to GSRSV due to barking problems. Ranger joined the pack at GSRSV's rescue facility near Yuba City for awhile, then was brought to a foster home in Carmichael. In August of 2003, Carol & Kevin Magee of Concord adopted Ranger (see right), and still have him to this day! The Magees joined the Davies, Topetes and Brian for the 3rd Puppy Birthday Party in 2004, pictured at the top of this page.
Still missing from the Puppy Birthday Parties through 2004 were the other two pups: Shadow and Dante. Dante and his adopters never did join the party, but Shadow would join the group in 2005--only with a twist. In December 2004, Shadow's adopter returned her to GSRSV d
ue to "marital priorities." When Sharon & Peter heard that Newt's sister was now an "orphan", they wasted little time in coming to GSRSV's rescue facility and adopting her. Now, the Davies had Zelda and two of her pups! There was a sisterly rivalry right from the start, but the Davies bravely and patiently worked through the trouble, and soon had a happy-for-the-most-part pack. Pictured at left is a group picture from the 5th Puppy Birthday Party, with Shadow at the feet of Peter on the far left. (Or is she with Sharon, to the right of Peter? Hard to tell!)
Time marched on, and the Davies graciously hosted a birthday party for Zelda and her pups every year, rain or shine, at their home in West Sacramento. In addition to the Topetes, Magees and Brian, Peter and Sharon's parents and friends of theirs joined the parties, which had now taken on a special meaning of their own.
Along the way, Shadow developed bone cancer in one of her rear legs. The Davies had Shadow's affected leg amputated in May of 2008, and she became one of the lucky ones to not only survive bone cancer, but to have no complications from the chemotherapy that followed the surgery. The loss of her leg didn't dampen Shadow's spirit one bit, and she happily continued to torment her sister Newt, go on long daily walks with Sharon and Peter, and hop up the stairs when it was time for bed.
As it turns out, the Puppy Birthday Party in 2010 would be the las
t to include the four pups Newt, Shadow, Ranger, and Bernadette. (See picture at right.) Bernie peacefully passed away on October 8, 2010, surrounded by Gil & Lori Topete and their children. The Topetes were of course grief-stricken, but continue to be part of the friendship circle that Zelda and her pups inspired.
Though Ze
lda and her remaining pups were getting up there in years, Zelda, Newt, Shadow and Ranger were still in fine form at the Puppy Birthday Party of 2012. (That's Ranger with Carol on left.) It was remarkable--and heart-warming--to be with Zelda and three of her puppies 11 years after I rescued them. (See group picture on
right. Ironically, the Husky in the picture is a dog--Ally-- that I also rescued from the Sac City Shelter, in December 2002.)
Sadly, the 2012 party was to be the last for Zelda. On November 21, 2012, the Davies had to put Zelda down due a number of maladies that had cropped up. They did everything they could to prolong Zelda's life, but ultimately, as Sharon wrote, "She just lost her sparkle." It was then that they knew it was time.....
Thank you, Sharon & Peter, for the love you've given to Newt, Zelda, and Shadow, and for planting the seeds of the friendship circle that remains unbroken.