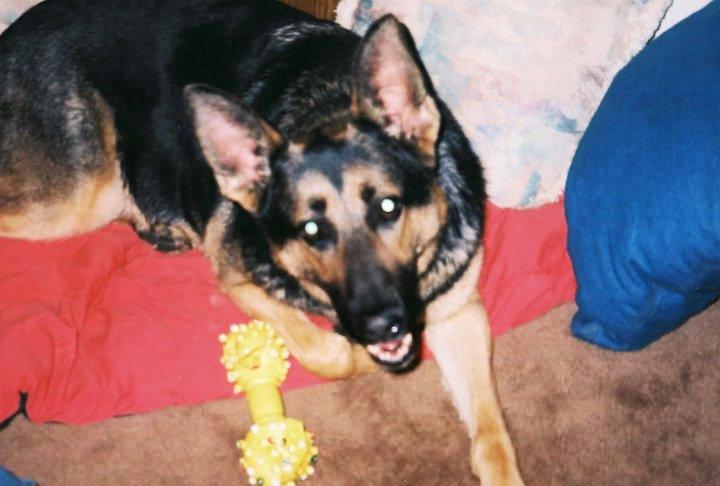 Aca, Our Gentle Giant
Just a couple of months shy of ten years we lost our beloved Aca (Ace). He was as my daughter put it, "a gentle giant." Our family has a huge hole where he was. I remember before we got Ace from GSRSV, Brian was very concerned about our back fence. He had some reservations about the possibility of Ace jumping the fence and running off. Well I am happy to say that in the almost 10 years we had him never, not even once did he try to jump that fence. He never even took off at anytime. He loved long walks by the canal. And loved being spooked by jackrabbits on that trail. That is where he and I got lots of exercise. He was an all around great family member. Not wild about guys in baseball caps. And don't even play like you are going to hurt one of the kids. He didn't take that kind of kidding around lightly. Didn't mind Nick's wheelchair either. It was just a part of life.
One of his favorite foods was cooked carrots. Not raw, he wouldn't touch them raw. We think they were like candy to him. In his younger days he didn't mind getting dressed up by Bailey and Lindsey. They would put a t-shirt on him and sunglasses which he just "went along with." And at Christmas his Aunt Theresa always had gifts for him. When she would come to town for a visit, he loved going for walks alone with her too.


Close to 3 years ago, Ace was at the vet for a check-up when we met a women whom brought in an injured GS mix puppy. She could not afford the bill and asked me if I would like to have this hurt pup. Ace didn't seem to mind. So we brought her home, where she would be his little sidekick (see picture at right) till the day he crossed over the Rainbow Bridge. So mellow, he put up with her baby year and then moving on into teen-hood. He did however let her know when she went too far with her pranking. She is missing him greatly as she lost her best friend. Just like we did.

We know Ace is up there in Heaven eating all the cooked carrots he wants and being the same Gentle Giant he was here. We Love and miss you Ace! Thanks for giving us all of the love and loyalty any family could ask for!
Michele, Ted, Nick, Lindsey, and Bailey

Aca was such an amazing animal. He and I were so close before my back surgeries. I took him with me everywhere--come home from middle school then get my boy then go hang out with all my friends. He was so much more than a animal to me--he touched my heart and I loved him with all of my heart. He will always occupy a big piece of my heart. I think of him daily, I miss him dearly. I have so many great memories of Aca. He will never be forgotten, that's for sure. He has touched so many of my friends and family's hearts and will be in their hearts forever as the Gentle Giant.

I remember when we brought home our other dog (Wasake) when she was a puppy-- how Aca reacted was something I'll never forget!! He was like "What is that little thing making noise?!" It was the cutest bond I've ever seen. He was a great mentor for her and taught her well.

I honestly love Aca more than anything in this world and forever he will be a part of me. I will miss him everyday but now he is in a better place where he isn't in pain. I love you so much Aca! Rest in Peace, bo bo. I love you.

-Lindsey Lawrence