"Avalon"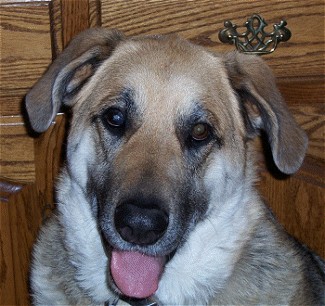 What can I say about Avalon, an old GSD/Anatolian shepherd mix who passed away? That she was neglected, abused and finally abandoned at a shelter? That GSRSV was probably the first genuine care she ever knew? That her heart was bigger than her 95-pound body? That she loved sunshine, walks in the park, comfy pillows, her longcoat GSD buddy (Zrako), and me? That she touched the lives of everyone who met her?
When I went to GSRSV to adopt a dog, the big girl pushed her way through the pack to greet me, and then checked out Zrako through my car window. She approved of us and sat down by the car, waiting to go home. Though I planned to look at other dogs, Avalon had made her decision and I knew she was the perfect addition to my family.
Avalon became a great favorite about town, getting regular hugs and cookies at the bank, the gas station, the coffee shop and the video store. My 83-year-old mother, afraid of large dogs, enjoyed her visits. The vet described her as "our favorite patient, the gentle giant." Though she was kind to everyone, Avalon nonetheless made it clear that she was my guardian and would defend me, if needed.
Well behaved but initially a bit shy, Avalon quickly blossomed into a big personality. She started each day by rolling onto her back with her front legs straight up, toes pointed and together like an upside down ballerina, knowing that would get a laugh. She made up a keep-away game to play with the much younger Zrako, "guarding" the patio and daring him to try to get past her. That wasn't easy! She became a "talker," and when I said, "Avalon is telling us a story," she wagged her tail and talked even more, very pleased with herself.
Avalon was a sunshine girl, always upbeat. She made it clear that, no matter what life hands you, there is something better just around the corner and a good friend will see you through good times and bad.
Then, suddenly, she was gone. And what more can I say about an old GSD/Anatolian shepherd mix who passed away? Except that I will always love her.