If you ever saw the movie Red Dog, you would understand Gelda's nickname and the meaning of friendship. Gelda--she of the unique yellow coat mixed with golden threads that glittered in the sun and stocky body which made you wonder if she was GSD/Chow or GSD/Husky; I decided she was GSD/Husky.

Gelda was clearly a "watch" dog--she would just watch silently when the raccoon was on the deck staring at her on the other side of the glass sliding door or when anyone came to the door. Quietest dog I ever met. Yep, that was the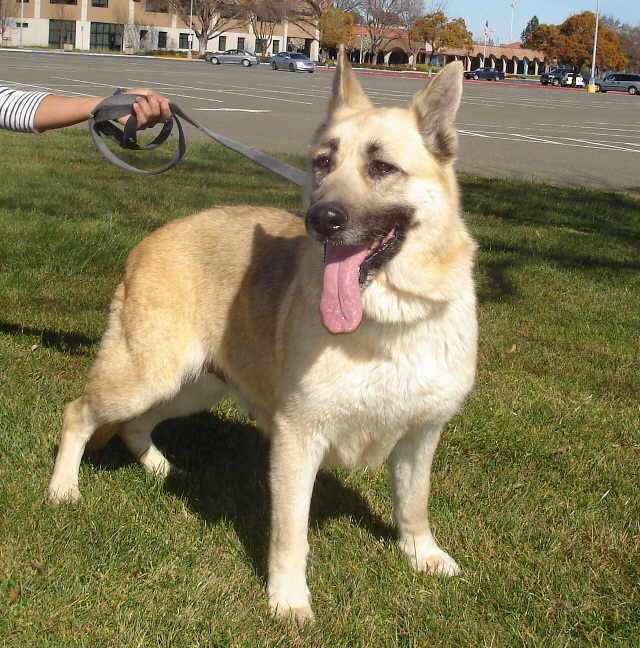 Husky part; no desire to be protective whatsoever and with an unbridled desire to scope out any new landscape and find the next escape route to a new adventure.

Gelda had her own ecosystem with those extra layers of plush Husky fur. She housed many a species of crawling wonders from her tail to her head. If her coat had been dark, I would have never known she was a walking forest. Thank goodness she was a yellow dog. Gelda was friendly and yet a bit stand offish.....you had to pass her sniff test (that's the GSD side). You weren't allowed to make her your best friend; it was she who decided who made the cut and who didn't.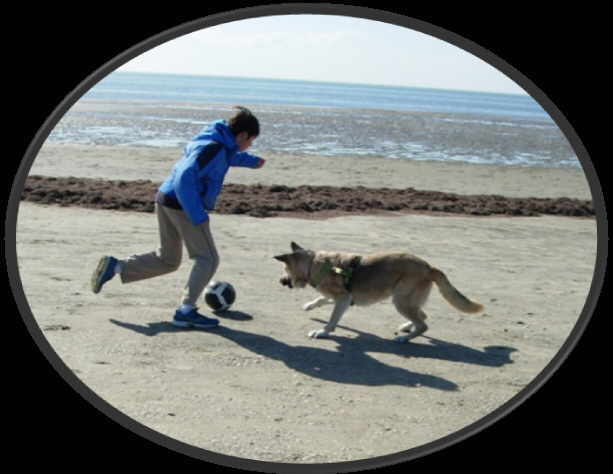 Gelda loved walks with everyone.....except my son Luke, because he walked her while wearing his head phones and clearly wasn't really walking "with" her. Soccer was her thing with him.
She didn't get up for anyone.....except my roommate ROCKY (right)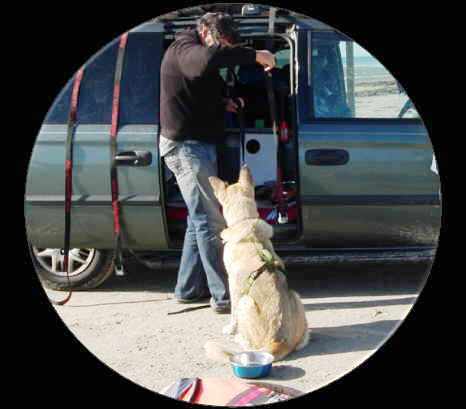 --her heart would flutter and her fur would blush with red tints when he came to the door. She eyed the door every evening waiting for him.....for days while he was on the road. She just knew you would love to pat her back end.....and she looked back at you as if to say "Isn't this great? I just know you must be enjoying this as much as me."

Gelda taught me communication 101 without speaking a word. Smartest GSD I ever met, too. She learned the invisible "don't cross that line" rule in 2 days when she came to me as a foster dog. When I worked on her body, p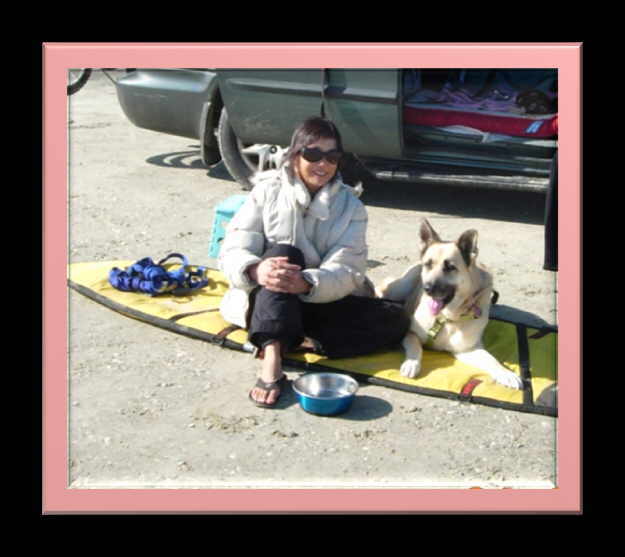 roviding her functional movement therapy, you could see her eyeballs rolling around thinking about what she was feeling and what was working and what was not. She learned to pay attention to the way she organized herself: uncrossing her hind legs and placing them directly under her hips while lowering her head forward to stand up easily; and walking upstairs without assistance despite the arthritis in her lumbar spine and hip dysplasia.
To the end, Gelda understood what I needed her to do and I understood what she needed me to do. With dressing changes and infrared home treatments on her cancerous wound she patiently read my cues to stand to let me undress and redress her wound (we picked the dressing room spot). Every time I said "yip" she would get up and "assume position".....to the end, including the day she crossed the rainbow bridge.

Gelda showed me the difference between loving and being in love. She loved me for all that I gave and did for her but she was truly in love with Rocky (left). He was her unconditional soul mate. It just clicked for her--we all understood that.

Mammary gland cancer took Gelda's liveliness too soon. At the end she went to Rocky and gave me the look that I was to join her as well to share our last time together in this world. She is now free from the suffering caused by the aggressive cancer that came too soon.

I thank Brian Foran for switching foster dogs on me the last minute and granting me this wild dog that tripped me constantly until I hired a 1 day trainer to set her straight. Smart dog--she learned how to behave with just 4 hours of intensive training. The change was like night and day.

Gelda was a special dog. She had that same super laid-back personality as my late GSD soul dog, TANGO (RIP). But I learned so much more from Gelda--the permanent foster dog--in the short 3&frac12 years she was with me than from TANGO and the 4 other GSDs that I fostered for other GSD rescue groups the previous 15 years. I am honored to have provided Gelda a better life with trips to Half Moon Bay, grass rolling and escape sessions in Southern California, the long road trip to South Padre Island and back, fishing and boat trips at Gull Lake, and of course sniffing the streets of San Carlos. All that Gelda did with me distanced her from her previous life at the "over-breeding farm" she was likely kept at, the harsh streets of Delano as an escapee, and the 4 month stint at the outdoor shelter in Delano in the heart of winter.

So long GELDA, A.K.A. Yellow Dog, Goldie Girl, Gouda, Pikachu. Come visit me when you set your soul in the next GSD that I serve.
Love, Donna, Dec 15, 2016