In late 2008, River came into our pack of two Alaskan Huskies and a Belgian Shepherd.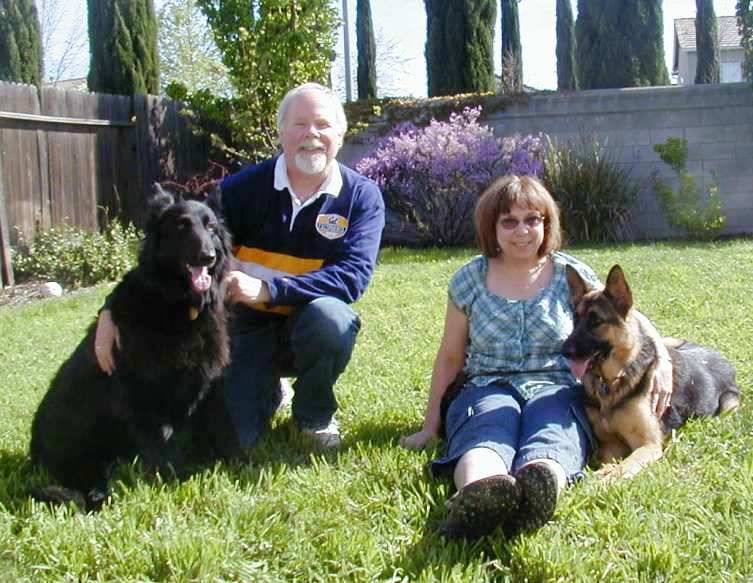 She came in for an adoption evaluation and never left. I now wonder if this was Brian's way of getting me to keep a dog that may not have had a chance otherwise; he knows that I'm too stubborn to give up!

River never quite fit into our pack, there were issues between the two females; I can't say dominance because River was quite submissive. Our life was crazy busy but somehow it worked.
River was fear-aggressive with a lot of anxiety issues, she bonded with me instantly and went after everyone else. She probably had a history of biting but I didn't know about it. She did test the flavor of a couple of rear ends, she unmade some friends, and had a muzzle warning at the vet.
River taught me so much about patience and love. I took some training on how to handle the aggression and keep our pack (and our family) safe. And we are so, so fortunate that she was invited to participate in a Susan Clothier Relationship-Based Training clinic.
My husband wanted to work with her too, so he fed her, crated her, groomed her, loved her and she became his Velcro girl. The training was left to me.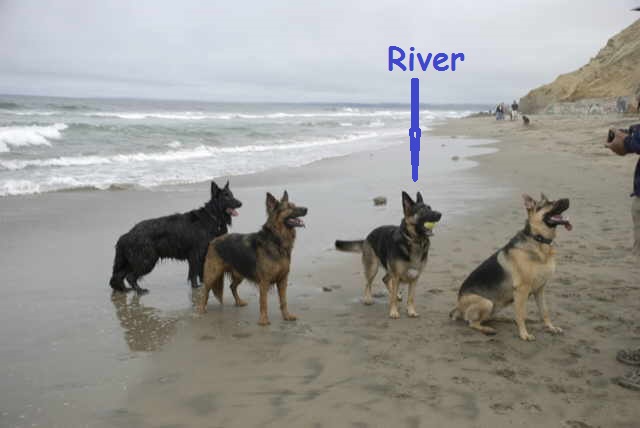 We took River to the beach with a GSD club and to some dog parks; with a tennis ball in her mouth she managed to be a slightly normal German Shepherd!
River had cancer around 2013 or 2014. I don't remember wh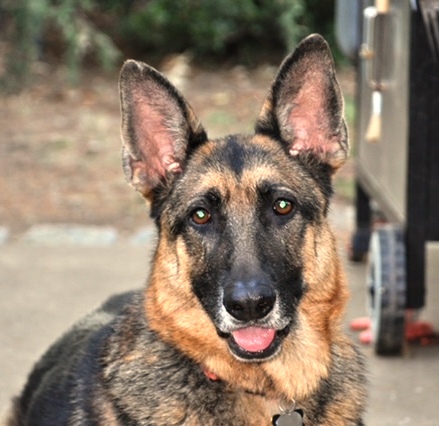 at kind. The vets removed the malignant tumor from her groin area and said if she didn't have chemo and radiation the cancer would come back in 3 years. We couldn't put her through that. But 8 years later she had outlived the rest of the pack, and for the first time we had only one dog.
River seemed to thrive on being the only dog, though by this time she couldn't hear and was suffering from degenerative myelopathy and was having trouble walking. She took great joy in accompanying me to get the mail, no matter how bad she felt.
It's unfortunate that dogs can't tell us what they want and need but we did our best to keep her comfortable.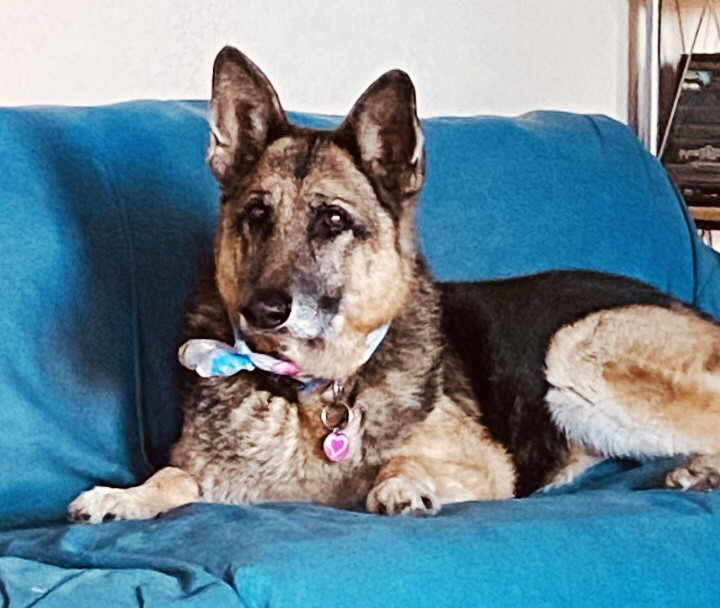 Last week, River seemed to have a series of strokes and seizures. She lost use of her whole right side. Though a skinny Shepherd, she was still around 60 pounds. Watching her fall was painful. We helped her as much as we could. We think River might have been close to fifteen when she crossed the Rainbow Bridge and our house now feels so empty.
Thank you, River, for being in our lives.
Carol & Kevin
July 1, 2021