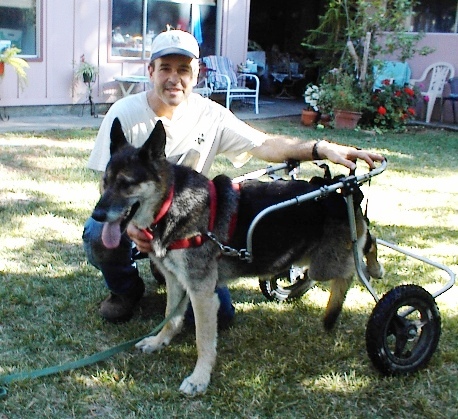 German Shepherd Rescue of Sacramento Valley (GSRSV) is a tax-exempt (501-c-3), charitable organization dedicated to finding good homes for German Shepherd Dogs (GSDs) and GSD mixes at risk of being placed in shelters, or who are already in shelters and potentially facing euthanasia. GSRSV is an independent rescue organization operated by one individual: Brian Foran (left with Sierra, Aug 2008). Though countless volunteers and benefactors have supported--and continue to support--GSRSV, I run and primarily fund the program, as I have since February 2001.
For a downloadable brochure describing GSRSV (Adobe Acrobat .pdf format, 321 KB, published Sept 2010), click here.
Background
Prior to Feb. 2001, GSRSV was the rescue program of the German Shepherd Dog Club of Sacramento Valley. I volunteered for this program beginning in November 2000 by fostering dogs and eventually developing this Website. Weary of five years of rescue work, the woman who ran the rescue program for the breed club asked if I would take it over, and I did so on February 1, 2001. From that point on, GSRSV was an independent organization no longer affiliated with the breed club.
GSRSV's original focus was rescuing dogs from shelters, and the vast majority of the dogs I've rescued have come from shelters. (See the Rescue Records from 2000 to the present year in the menu to the left.) However, beginning in 2006, I began an effort to reduce the number of dogs that I personally care for. Because there are so many GSDs (and, of course, other breeds) in need of rescue at shelters, the only way to downsize was to stop taking in so many dogs from those shelters. However, I also receive numerous calls from individuals who need assistance in placing their own GSDs or GSDs that they have found, and I wanted to continue helping these dogs out. So now, my primary focus is on finding homes for other people's GSDs, while I continue to assist GSDs and GSD mixes in Sacramento-area shelters by posting them on my Website--and occasionally rescuing them.
How does GSRSV work?
GSRSV is essentially a fostering agency. I am not a shelter, and though I do have a facility to keep numerous rescued dogs, I do not have the means to accept dogs on a "drop off" basis. When I rescue a dog, I either keep it at my rescue facility in Pleasant Grove, or bring it to a foster home. Unfortunately, very few people are committed enough to foster dogs, which limits the number of dogs that I can rescue. If you are interested in becoming a foster caretaker, please let me know! The dogs at GSRSV's rescue facility live communally, without cages (except when eating), and nearly all are welcome in the house 24/7 via a dog door. I try to provide as much of a home environment for the dogs in my care as possible while I seek to find them permanent homes. Foster caretakers do the same.
The other way that GSRSV assists GSDs and GSD mixes is by placing the dogs through its rescue program while their guardians continue to provide care for the dogs. I refer to these dogs as "program dogs." (See the page "How to Place a Dog through GSRSV.")
Why Does GSRSV Rescue so Many Mixes if it's a German Shepherd Rescue?
Though I got involved in rescue because of my love for German Shepherds, at heart I'm a dog lover first, with German Shepherds simply being my favorite breed. Some of my favorite dogs have been GSD mixes, and they actually have some advantages over purebred GSDs--primarily the lack of congenital problems common to GSDs such as degenerative myelopathy and hip dysplasia. Further, most of the existing GSD rescues focus solely on purebreds, which leaves the poor GSD mixes in the lurch. I fill that gap.

What Geographical Region Does GSRSV Cover?
GSRSV places dogs throughout northern California and western Nevada, but does not exclude people who live even further away from adopting. I encourage prospective adopters who are a significant distance from GSRSV to work with their local rescue groups first to find the dog that they are looking for.
By far the largest GSD rescue organization serving the Sacramento area is German Shepherd Rescue of Northern California. I encourage you to check out their Website and adoption events.
Can I Make a Tax-Deductible Donation to GSRSV?
Yes! GSRSV received it's tax-exempt status [501(c)(3)] from the IRS on March 23, 2013, retroactive to February 14, 2012. From that date forward, all donations made to GSRSV were tax-deductible as allowed by law.
GSRSV's Federal Employer Identification Number is 68-0477661.
Can GSRSV Use Volunteers?
Yes, but not at my rescue facility itself. I have many dogs at my rescue facility, and they all live communally. This creates quite a "critical mass" of energy when visitors come. Most people find it overwhelming to come to my place and help out, so I've resigned myself to the fact that I need to take care of the dogs on my own.
Occasionally, I attend a large adoption event such as Pet Expo, and always need volunteers for those events. I would like to take part in regular adoption events at pet stores, but due to the remote location of my rescue facility, the logistics are very difficult.
I can use volunteers to assist with fund raising, especially now that GSRSV has obtained tax-exempt status w/ the IRS. If you would like to help out in this regard, please contact Brian at 916-655-3125 or bab43@msn.com.