RescueRecord
The following dogs are available for adoption through GSRSV. Some are at the rescue ranch, some are in foster homes and some are with their owners or caretakers working with GSRSV. For further information about these dogs, please call Brian Foran at 916-655-3125 or e-mail him at bab43@msn.com. (Note: dogs that were recently adopted will be moved to the very bottom of this page and will have an "Adopted" banner above their profiles.) For information about the adoption process and fees, please see How to Adopt a Dog from GSRSV/Adoption Fees.
This picture appears next to dogs who have proven themselves to be cat-friendly.

The flag appears above the pictures of dogs that GSRSV is placing for military families who are forced to find new homes for their dogs due to deployments. Please show your support for our service men and women by adopting or fostering their dogs!
This page was last modified May 28, 2023.

Because I am in the (long) process of moving to Central Oregon, I am rescuing very few dogs these days--thus the lack of adoptable dogs on this page.

Please check out the two other pages on this Website that list adoptable dogs from other rescue groups, shelters, caretakers and owners:
Dogs Available for Adoption from Other Area Rescue Groups and Individuals
Dogs Available for Adoption through Owner Placement
"Cindy Lu" is a beautiful, approx 70-lb, 2-yo spayed female GSD who is calm, affectionate and protective. She likes to snuggle and lay her head on your lap. Cindy Lu is healthy, UTD on vaccinations and microchipped. She has a nice square rear end and moves effortlessly.
Cindy Lu is friendly with everyone she meets, yet is a good watch dog. In true GSD fashion she is always on alert and will bark appropriately at unusual sounds. I have yet to observe Cindy Lu with children but I have absolutely no doubt she'll be great with them. She is gentle and takes treats softly from hand.
Cindy Lu has been nothing but great w/ the other dogs at GSRSV's rescue ranch. She is somewhat on the submissive side and prefers not to be around the chaos of a loud group of dogs. Ironically, Cindy Lu was labeled "rescue only" at the shelter she was at because of extreme reactiveness towards other dogs. It's quite possible that Cindy Lu will display reactive behavior towards strange dogs when walked on a leash, but I have not had the opportunity to test her.
I do not know how Cindy Lu is with cats so will NOT consider a home with cats for her.
Cindy Lu is fully housetrained and extremely calm inside. She will take food off of counters, so she needs a little work in this area.
Cindy Lu appears to have received formal obedience training as she is very responsive to basic commands. She walks great on leash, staying right by your side. She also has excellent recall off-leash.
Cindy rides fantastic in a vehicle, though she is a little hesitant to jump in. She is also quite calm when left inside a vehicle for a short period of time.
A guy named Michael (pictured at left) came across Cindy Lu while working on a job site near Winters on May 1. She was affectionate with Michael right from he start, but he had no choice but to have Solano County animal control come pick her up.
Michael kept tabs on Cindy Lu while she was at the shelter. She began exhibiting what was interpreted as aggressive behavior towards other dogs at the shelter and so was labeled "Rescue Only." This label greatly increased the likelihood that the shelter would euthanize Cindy Lu.
Michael contacted GSRSV and offered to pay me to board Cindy Lu while we tried to find a permanent home for her if I rescued her. Seeing how committed Michael was to Cindy Lu's survival, I put a rescue hold on her and took her in on May 16.
Cindy Lu is located in Pleasant Grove, CA. Her adoption fee is $300.
Posted 5-28-23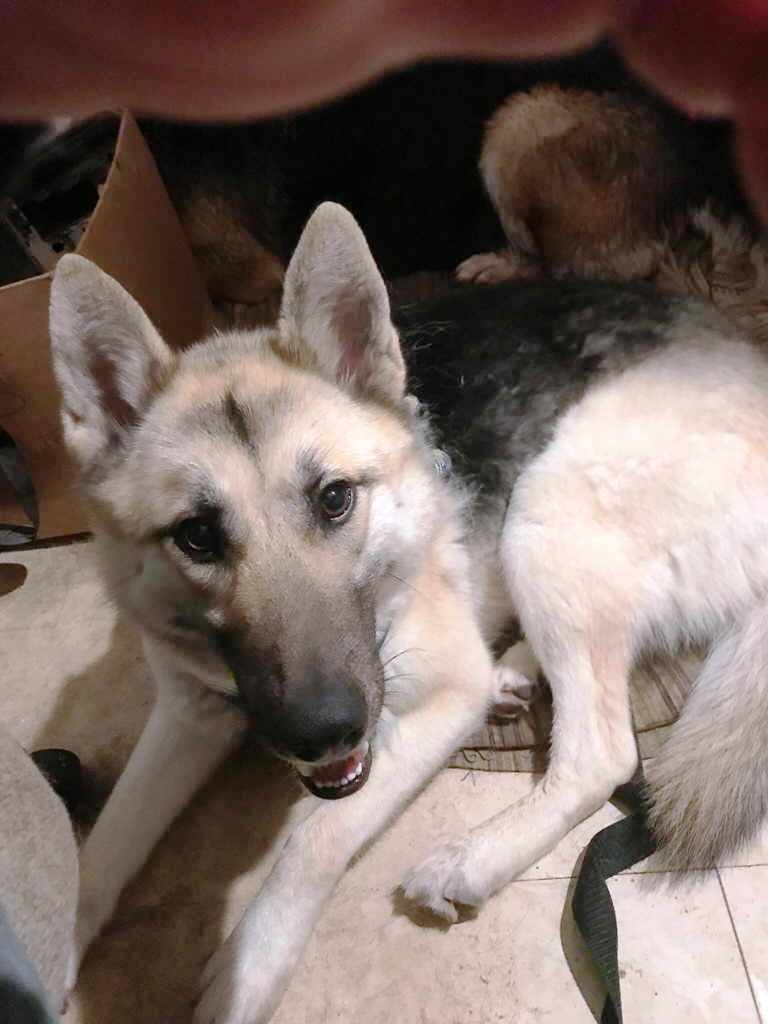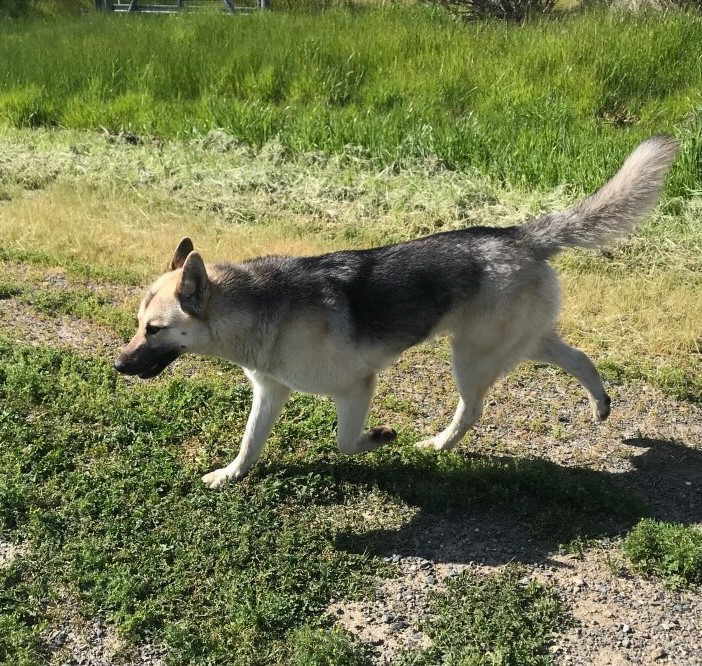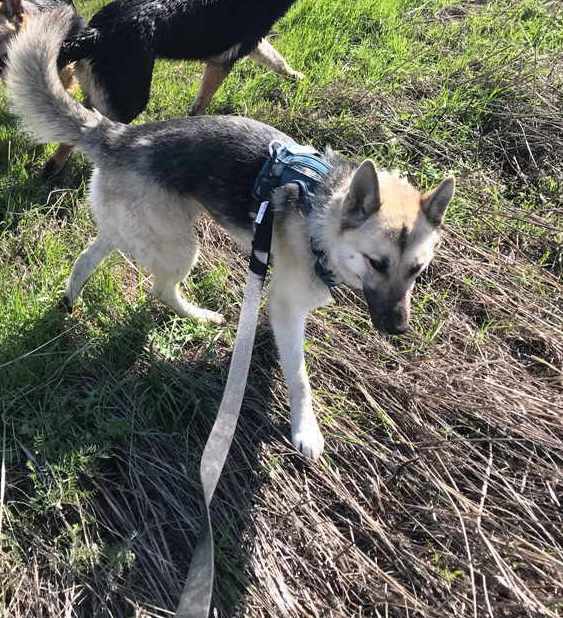 "Daisy" is a 60- lb, approx 1 1/2-yo spayed female Husky/GSD who is mellow, affectionate and playful. Daisy is healthy and UTD on core vaccinations.
Daisy is friendly with all people and I'm sure she'd be great with young children. She will likely NOT make a great watchdog as she is not very vocal and has more of a happy-go-lucky Husky personality than a protective GSD personality.
Daisy does great w/ the other dogs here at GSRSV's rescue ranch. (Click here for a video of Daisy romping around w/ the other dogs.) Her one down side w/ other dogs is that she occasionally exhibits food-aggression when competing for free-for-all biscuits. However, she responds very quickly to verbal corrections. She likes to be chased by other dogs, but is also fairly independent.
I have not observed Daisy around cats, but due to her strong prey drive for little critters I will NOT consider a home with cats for her.
Daisy is completely housetrained and perfectly behaved inside. She has not had a single accident at my place. Daisy is NOT a fence-jumper, and the 5' fence in my backyard contains her fine when I'm gone. She also has access to the house via a dog door 24/7.
Daisy walks great on a leash--she's super-easy. She also appears to have received some basic obedience training and knows a few commands.
Daisy enjoys car rides and is a very calm passenger.
I haven't observed Daisy playing with any toys, but that could well change once she does not have so many dogs to compete with. She likes to spend time out in the fields hunting for rodents or chasing birds. Daisy also loves to swim and splash in ponds.
A woman in Merced (Natalie) found Daisy on March 7 in traffic in front of her house. Though Daisy was very scared and cautious, Natalie was able to draw her in with food. Because Natalie has several cats and no place to house Daisy separately, she had to call animal control to pick up Daisy.
Natalie visited Daisy a couple of times at the Merced County Shelter, where and Daisy was friendly and inquisitive. Natalie knew Daisy's chances of getting adopted were slim due to the large number of Husky & Husky mixes at the shelter and few adoptions, so she reached out to local rescue groups.
After coming up empty-handed with local rescue groups, Natalie contacted GSRSV. Though I had no plans to pull any shelter dogs, I was impressed w/ Natalie's dedication to saving Daisy. I told Natalie that if she adopted Daisy (so that she would be spayed upon leaving the shelter) and transported her to my rescue ranch, I'd take Daisy in. Natalie jumped on this offer and brought Daisy to the rescue ranch on 3-21-23.
Daisy is located in Pleasant Grove, CA. Her adoption fee is $300.
Posted 5-19-23.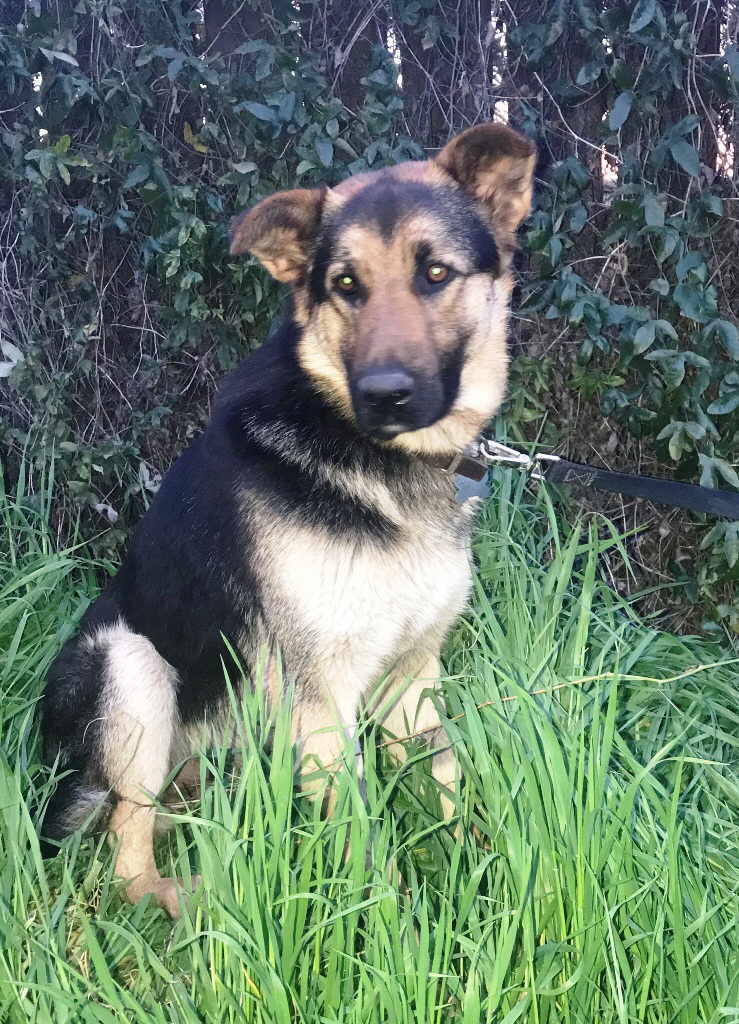 "Max" is an approx 60-lb, 1&frac12-yo neutered male GSD mix who is very mellow, affectionate and well=behaved. Max is healthy and up-to-date on rabies & distemper/parvo vaccinations.
Max is friendly with strangers and loves to be petted. We have yet to observe Max with children since he was found, but I'm fairly confident that Max will be fine with youngsters. He is a gentle soul and takes treats softly from hand.
Max is great around other dogs and is presently living with several other large dogs. (Click here for a video of Max romping around GSRSV's rescue ranch w/ some other dogs.) He likes to snuggle up to other dogs, as can be seen in the bottom photo on the left.
We have not observed Max around cats, but he has a calm demeanor and my hunch is that he will be OK w/ cats.
Max is housetrained with access to a dog door. He is non-destructive when left alone, though he does have the company of other dogs at all times. He is extremely calm in the house and loves to cuddle on the bed with me.
Max is somewhat fearful when I'm placing a leash on him. However, once the leash is on he is fine and walks fairly well on leash. He understands a few basic commands.
A couple in rural Acampo (east of Stockton) found Max wandering their unfenced property some time in Jan 2023. This area has become a common dumping ground for dogs so it's almost certain that Max was abandoned. The couple didn't want to take Max to the crowded San Joaquin County Shelter, so let him hang around their property. Max appeared to be ill, so they brought him to their vet where he was treated for what appeared to be an intestinal blockage. Max's condition cleared up and there has been no reoccurrence.
Max's caretakers had plans in March for a one-month cruise so began reaching out for a temporary foster home for him. I was impressed with the couple's commitment to Max, so agreed to take him in if they would have him neutered first, which they did. Max arrived on 3-3-23.
Max's adoption fee is $300.
Posted 3-24-23; updated 4-21-23, 5-11-23.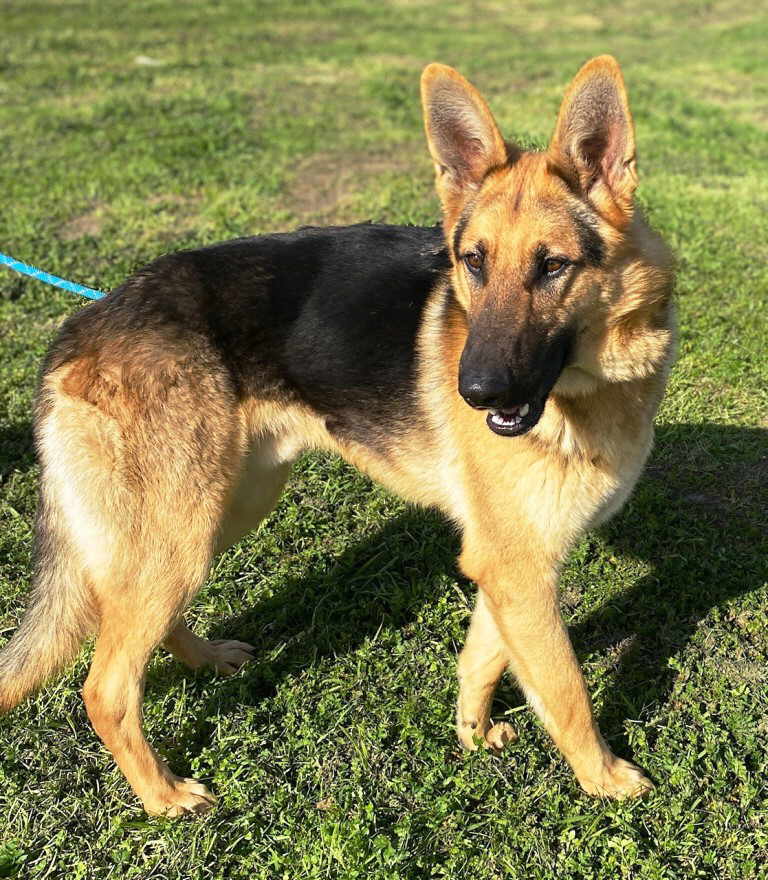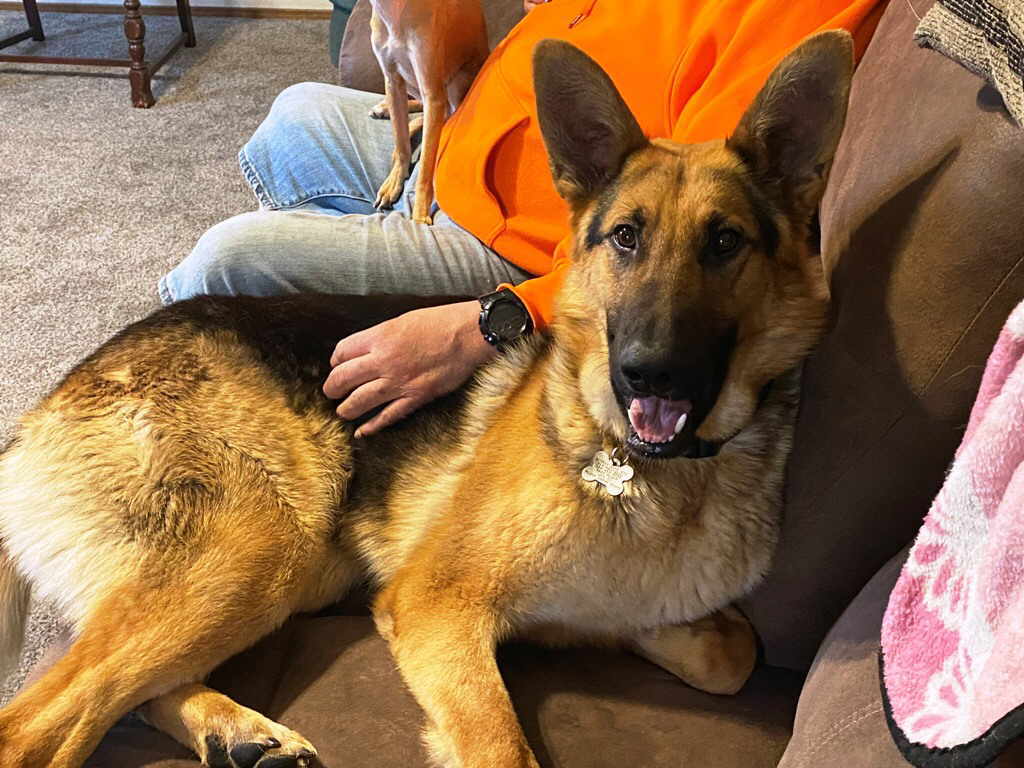 "Bravo" is an approx 1&frac12-yo neutered male GSD who is affectionate, mellow and athletic. Bravo is in good health and up-do-date on core vaccinations.
Bravo is fantastic with people His foster caretakers have yet to have him around children but they feel he will be great with them as he has such a sweet disposition.
Bravo gets along great with other dogs, including small dogs. He currently lives with two Chihuahuas who he does very well with. However, Bravo will growl and snap at the little dogs if they get too close to his food. This is understandable, as Bravo was found emaciated in an orchard and is still coming up to a healthy weight.
Bravo appears to be OK with cats. He was introduced to a cat when he was at the shelter and showed no interest in it.
Bravo is housetrained as far as elimination goes, but is still learning proper house manners. For example, he likes to take items off of counters and chew them, such wooden spoons. He has also chewed up magazines and a few other things when left alone in the house.
Bravo is able to jump a six-foot wood fence, so for now we'll need to find him a home in which he's kept inside when his people are gone or a home with some kind of deterrent to fence-jumping, such as a "coyote roller" or a hot wire.
Bravo is still learning good leash manners when walking, but he's quite controllable.
Bravo rides just fine in a vehicle.
Bravo is learning to play fetch but gets distracted by the other dogs. He likes toys.
Overall, Bravo is a very mellow dog and will make a great addition to any family.
Bravo was found abandoned with another German Shepherd in an orchard near Colusa on January 23. He was taken to the Colusa County shelter and was later neutered at UC Davis. GSRSV rescued Bravo on Feb 11 and he immediately went to a foster home.
Bravo is located in Orland, but we can meet prospective adopters in Dunnigan, which is along I-5 about 40 minutes north of Sacramento. His adoption fee is $300.
Posted 2-26-23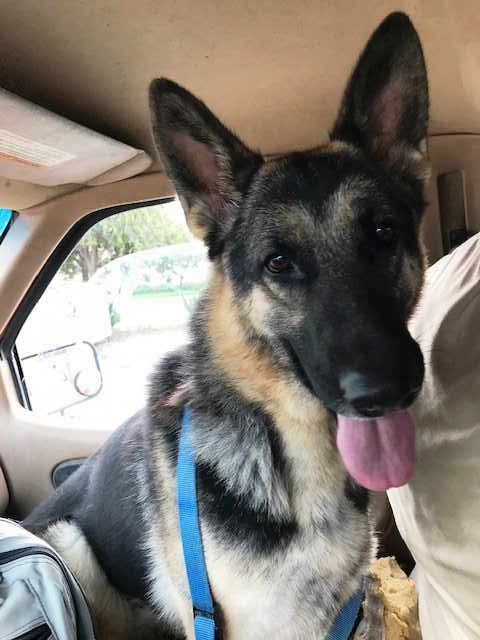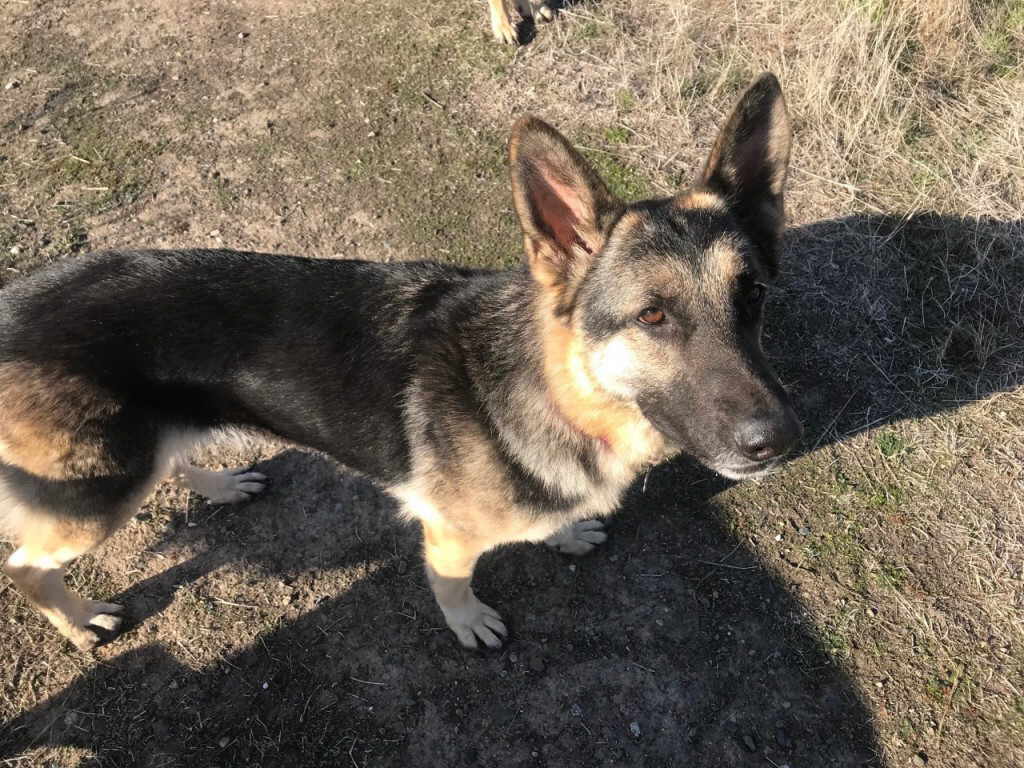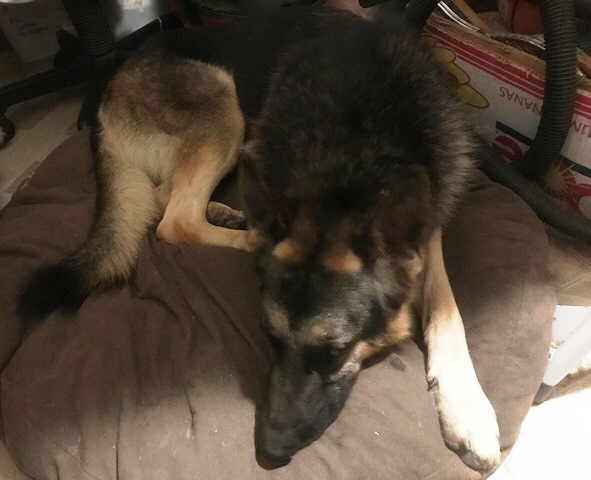 Gloria is now 100% housetrained!
"Gloria" is an approx 65-lb, 2-3-yo spayed female GSD who is sweet, affectionate and mellow. She has a very soft, relatively thin coat--unusual for a GSD. (Genetically, she might be a mix, but outwardly she looks all GSD.)
Gloria is friendly with everyone she meets. She's fairly gentle so I'm sure that she'll be great with children. She loves to snuggle--even all night!
Gloria is very comfortable around other dogs but so far has not been very playful with any of the GSRSV dogs. I think that she would be more playful with another dog if it was just one or two other dogs that she lived with. She'd also be fine as an only dog.
I have not observed Gloria around cats. I might consider her for a home w/ a dog-savvy cat but will give preference to adopters without cats.
Gloria is fully housetrained but might get a little mischievous if left alone in the house. I formerly crated her at night, so she's accustomed to being in a crate--which will help her make a transition to a new home.
Gloria obeys some basic commands and walks well on leash. She also has very good recall when off leash.
Gloria loves to go for rides in the car and is a polite passenger.
So far I have not observed much in the way of play behavior with Gloria. Perhaps once she is adopted more of her playful side will emerge.
Gloria received a "gastropexy" procedure when she was spayed, which will prevent her stomach from turning (volvulus) if she were to ever bloat. Bloat (gastric dilitation) is an often fatal condition when the stomach turns.
Gloria was brought to the Colusa County Shelter in Colusa, CA, on 9-19-22 as a stray. Nobody claimed her and she was running out of time. GSRSV rescued her from the shelter on 11-12-22.
Gloria is located in Sacramento. Her adoption fee is $300.
Posted 11-22-22; updated 11-29-22; updated 2-2-23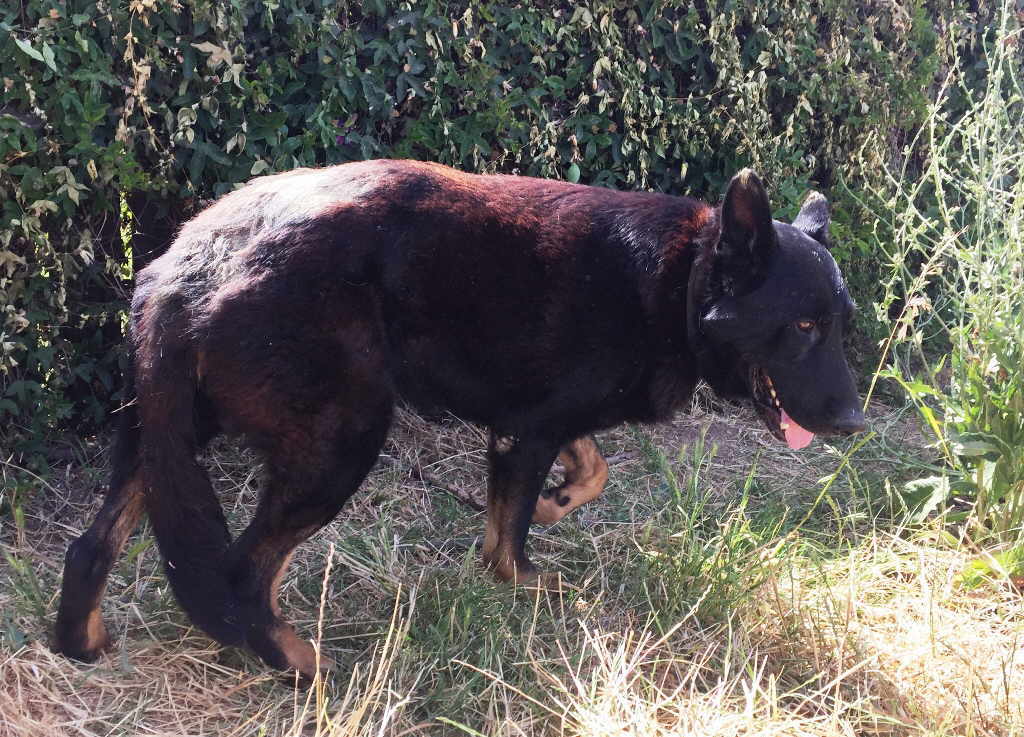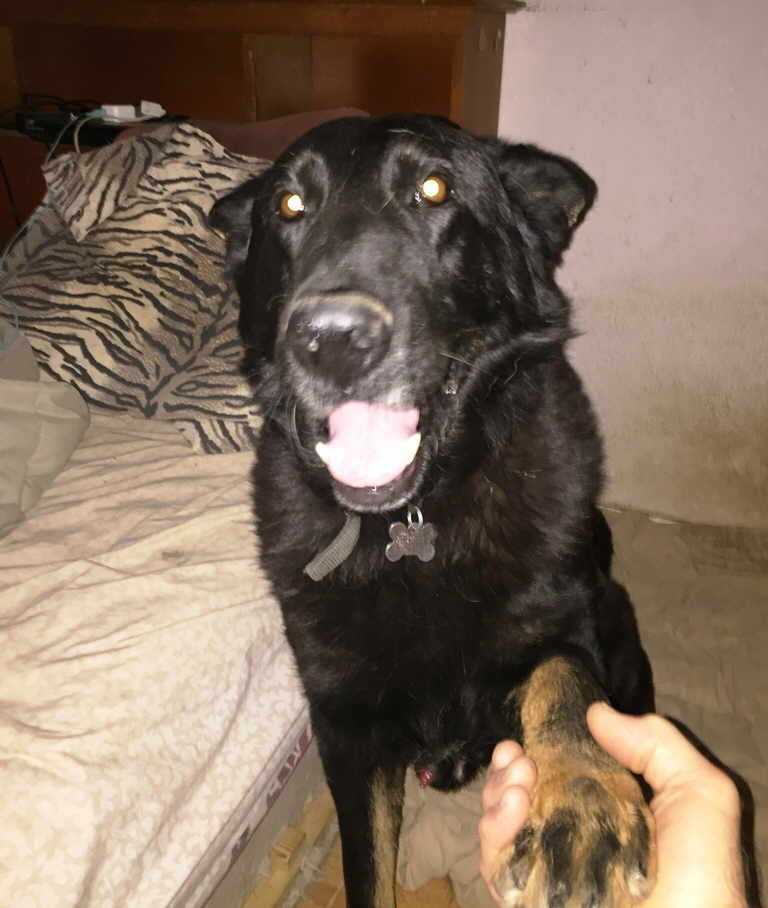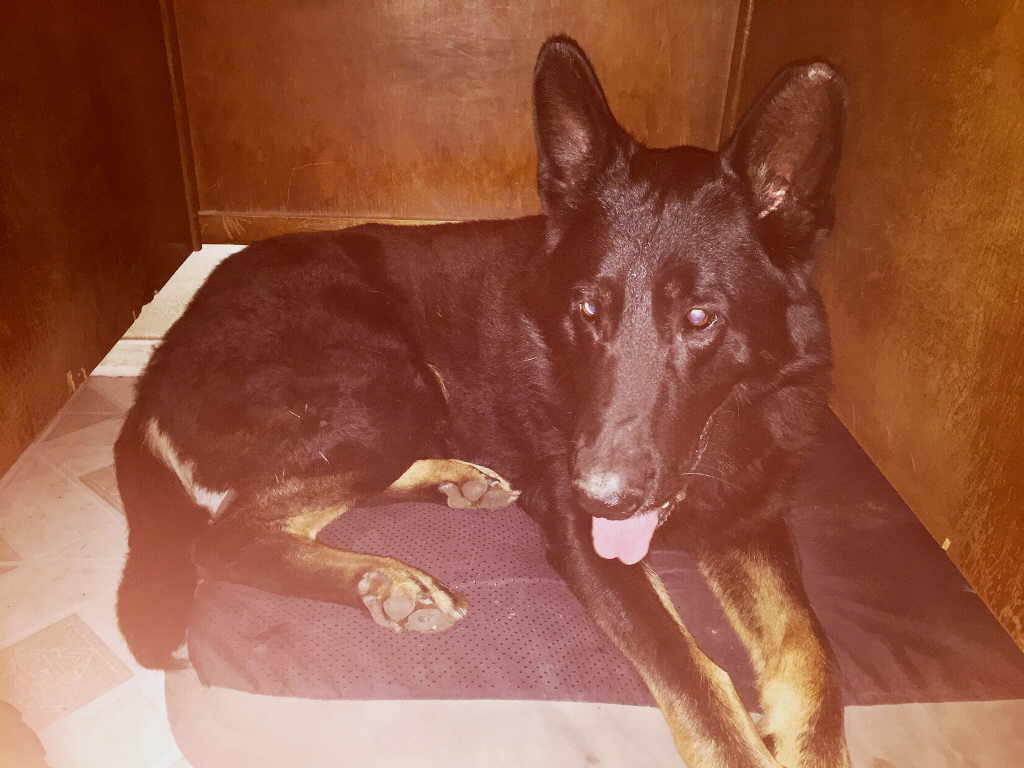 "Charlie" is an approx 80-lb, 8-yo neutered male GSD who is super-affectionate, incredibly loyal and easy-going.

Charlie is friendly with everyone he meets (not a great watchdog) and great with young children. He lived with a family with two young boys (7 & 10-yrs old) between 6-13 and 8-16-21 and he was great with them. He takes treats gently from hand but sometimes forgets that he's not a little lap dog. Charlie loves to snuggle in bed and to be wherever you are. He is always right under my desk when I'm working at my computer!

Charlie is good with medium & large dogs, but NOT good w/ small dogs. He's also not good w/ high-energy dogs--he wants to run after them and "correct" them.

Charlie has exhibited a prey drive towards small dogs so he's almost certainly NOT good with cats.

Charlie is completely housetrained and can be left inside for hours without issue. However, if you have lever-style door "knobs", be sure the lever is locked because Charlie is smart enough to open a door with such lever!

Charlie knows a few basic commands such as sit and lie down. He is good on leash though he sometimes pulls initially out of eagerness.

Charlie hasn't shown much affinity for toys since he's been with me but the other day he picked up a ball and trotted off with it, so maybe there's a playful pup hidden in Charlie.

Charlie is in great health. He has a straight back, sound hips and fluid mobility. His ear tips have permanent scarring from fly strike (due to unsanitary conditions outdoors).

A family in North Highlands raised Charlie from a pup. However, both his people became ill and were no longer able to provide him with exercise or much attention. I received a request in May from their daughter to rehome him. I went to meet Charlie on May 19, 2021, and he literally begged me to take him with me--so I did!

A family with boys ages 10 & 7 yrs and a small female Terrier mix adopted Charlie on June 13. Charlie did fantastic in most regards, especially with the boys. However, he would often harass the little dog and his people never trusted him enough to leave him alone with her.

Charlie also did not do well with small dogs in their neighborhood. On one occasion he got out and bit a little dog—not bad enough for vet attention, but it put his people on notice.

In late August, Charlie opened the front door (which has a lever-style door "knob") and set his sites on a little dog whose people were walking it across the street. This time, Charlie did enough damage to send the dog to the vet. (The dog was OK, but it cost Charlie's people about $2K in vet bills.) After this incident, Charlie's people sadly realized they could no longer keep him due to his strong prey drive so they returned him to me on Aug 16.

Since I took Charlie back, he's been once again perfect w/ all of the GSRSV dogs. So, a home w/ another large dog is certainly an option for him--just no small dogs or cats.

Charlie's adoption fee is $200.
Updated 10-26-21; updated 2-2-23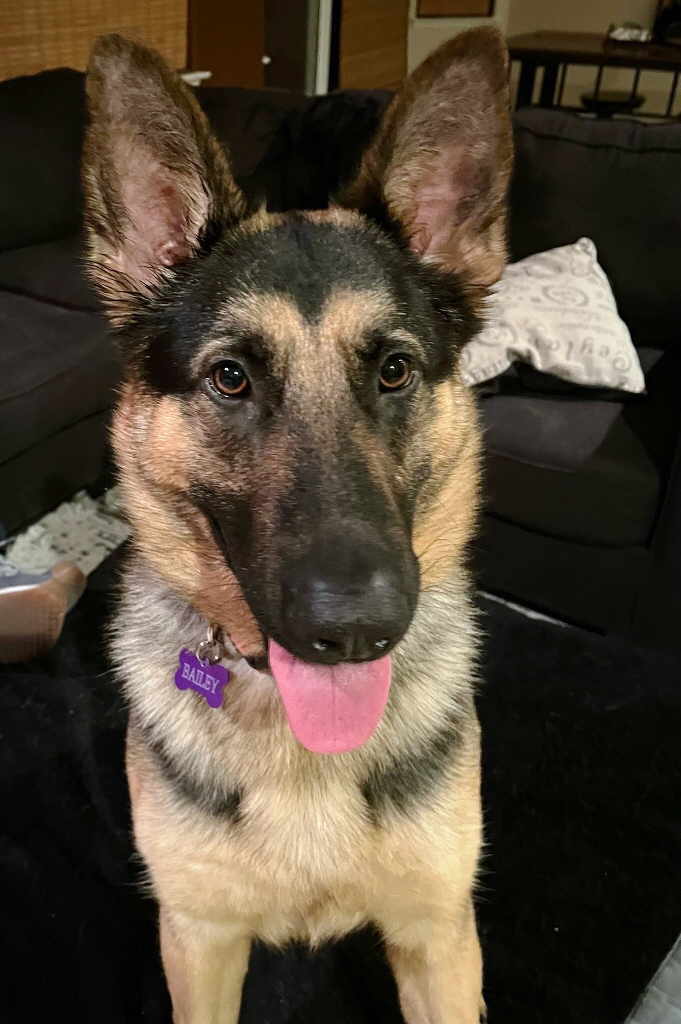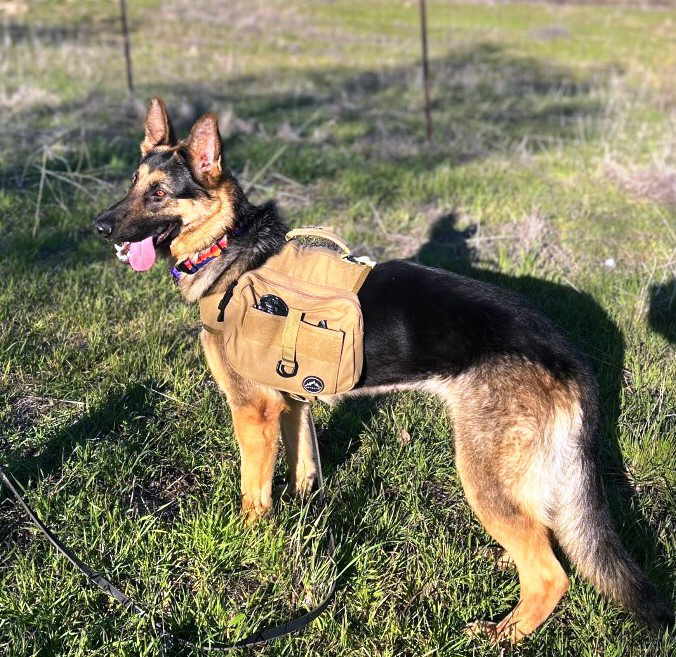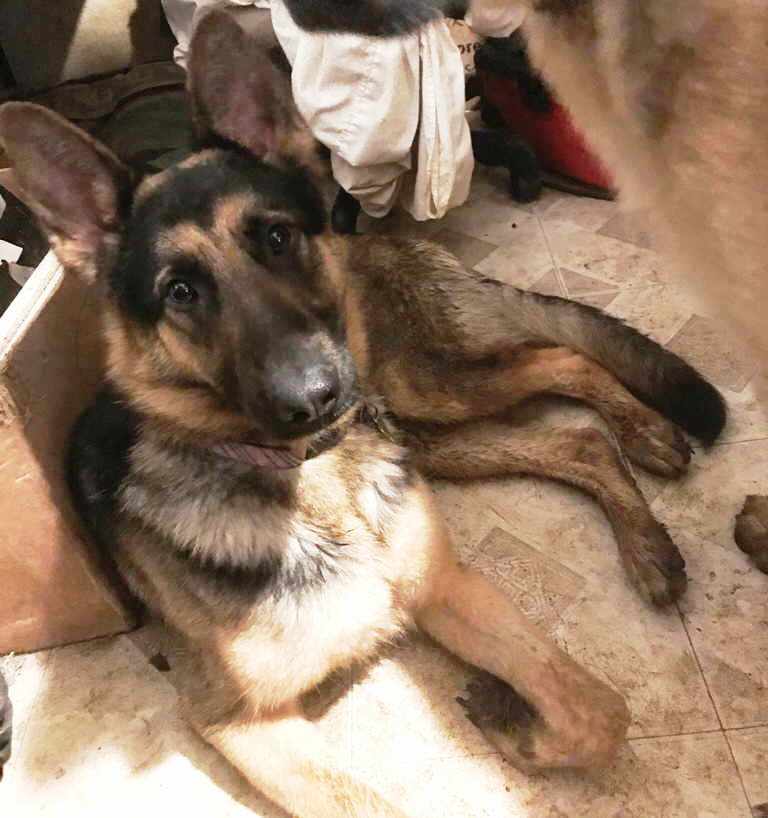 Adopted 2-25-23!
"Bailey" is a beautiful, 65-lb, approx 2-yo spayed female GSD who is energetic, happy and social. She is a happy-go-lucky dog who needs plenty of exercise and mental stimulation. Bailey is healthy and up-to-date on core vaccinations.
Bailey is friendly with everyone she meets, whether it's inside the house or beyond. She does well in new environments such as stores and workplaces. Bailey is good with the two 12-yo children she lives with and did well with an 8-yo child. However, she gets fairly mouthy when she's excited, which could pose a problem for children under the age of 12.
Bailey does great with other dogs. She was good with the other dogs at GSRSV's rescue ranch for the three days she was there and does fine w/ the other dogs she lives with at her foster home, She does well at the doggy day care facility she occasionally visits and was OK w/ a little Chihuahua she met there.
We have not observed Bailey with cats, but she does have a strong prey drive for squirrels, rabbits, etc. Therefore, we will only consider a home for Bailey WITHOUT CATS.
Bailey is housetrained and has good house manners. Her foster caretakers usually keep her in a large kennel in their garage when they are gone for more than an hour. For shorter durations, they have kept her in a separate room and in a crate, both of which she has done well in (though she whines for a bit in the crate). Bailey sleeps in the dining room (gated off), either on her bed or in an open crate.
Bailey walks well on leash when wearing either a prong or a slip collar; she does pull a bit initially w/ just a flat collar. Bailey is non-reactive towards other dogs she sees on walks. She'd make a good running partner.
Bailey is somewhat anxious when traveling in a vehicle, pacing around. This behavior might subside with more frequent rides.
Bailey loves to fetch but then tends to play keep away. She also loves playing tug. She likes stuffed toys, but will destroy them.
GSRSV rescued Bailey from the Solano County Shelter on 1-14-23. She was taken into a foster home on 1-17-23.
Bailey is located in in Brentwood (Contra Costa County). Her adoption fee is $300.
Posted 2-6-23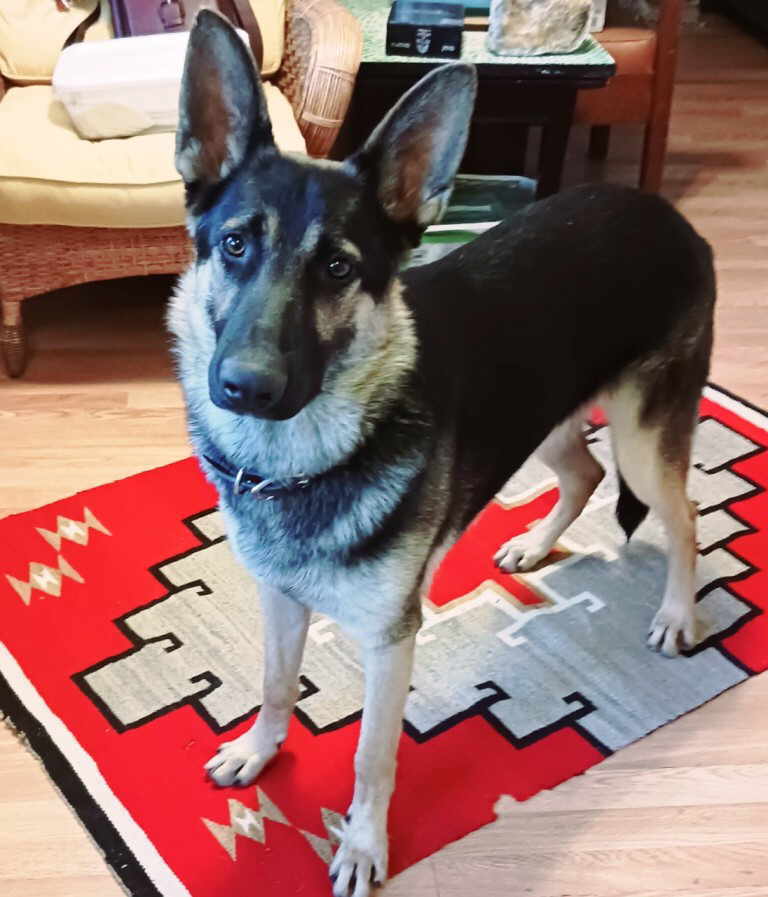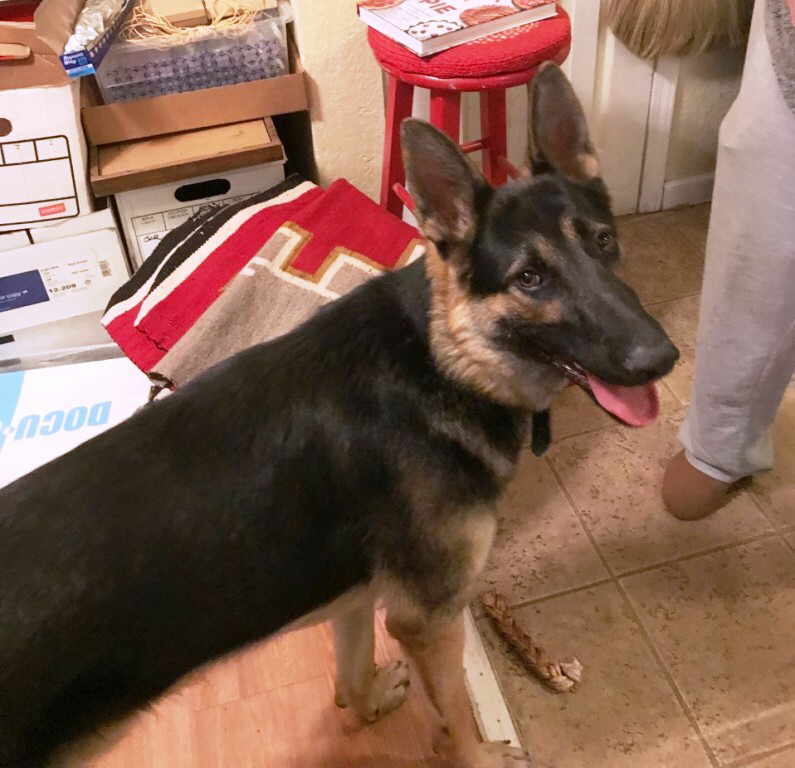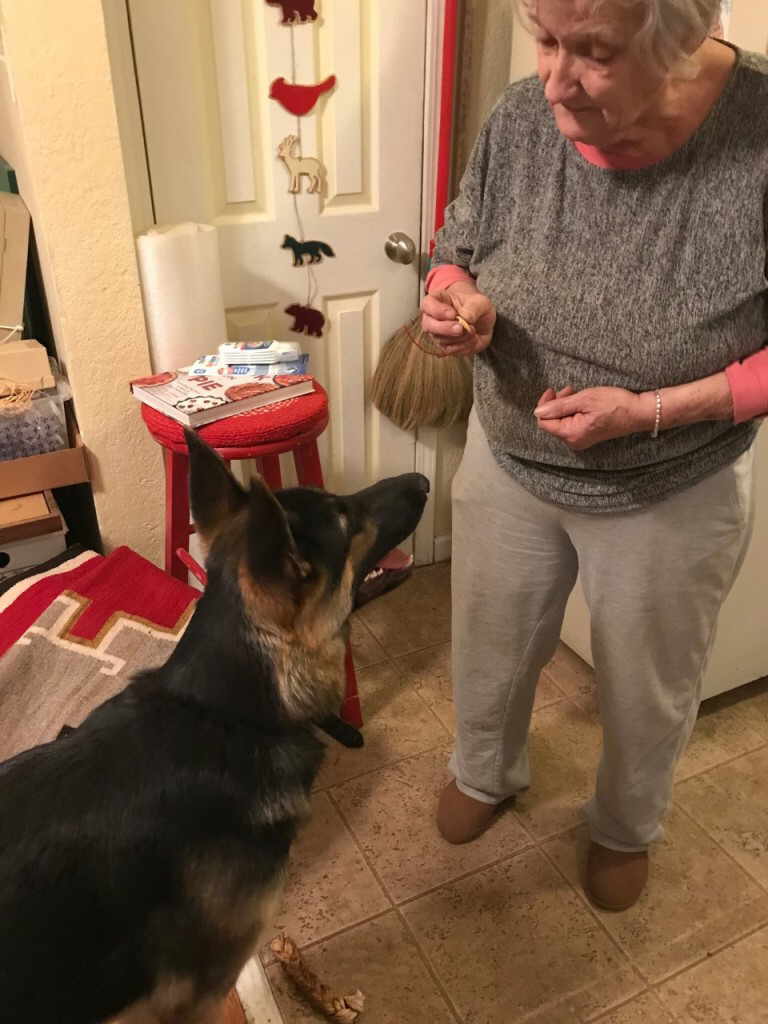 Adopted 2-25-23!
"Tag" is a 10-mos old (as of 11-20-22), approx 80-lb male GSD who is loving, playful and loyal.
Tag is very friendly with everyone he meets, including strangers who come into his person's house. When I went to Tag's house to meet him, Tag was straining to greet me while his person (Georgia) was holding on to his collar. For many GSDs, this would have been an invitation to bite me, but Tag never displayed any aggression at all.
Tag is a bit rambunctious at times, so he would likely overwhelm kids under 12 yrs of age without supervision. Tag definitely wanted to play rough with me and was mouthing on my arm.
Tag was fine with other dogs when he was younger but has not interacted with other dogs for several months. Nonetheless, I'm sure that Tag will be great with other dogs. In fact, he could really benefit from having another large, playful dog around to burn off some of his energy.
Tag has never lived with cats and chases them out of his yard, so NO CATS for Tag.
Tag is housetrained and is non-destructive when left inside the house for several hours. He sleeps on his bed just outside Georgia's bedroom for most of the night. In the early AM hours Georgia lets Tag inside her bedroom and then Tag sleeps on her bed until she gets up.
Georgia has provided Tag with basic obedience training but nothing advanced. Tag will sit and lie on command and take treats gently from hand.
Tag has not had much leash training in the last several months due to his size and strength (overwhelms Georgia), so will surely need work in this area. Tag does NOT have good off-leash recall. In fact, Georgia has to keep Tag on an overhead zip line when he's in her backyard, because otherwise he'll play keep-away for hours when it's time for him to come inside.
Tag rides fine in the car, but Georgia has not taken him in her car too often and now Tag resists getting in the car. This is not unusual behavior for a GSD Tag's age who has not gone for many car rides and he'll likely overcome the behavior in short time.
Tag loves to play tug-of-war and to play fetch. Georgia almost has Tag to the point where he'll release the ball when he brings it back.
Georgia has had Tag since he was eight weeks old and he's been a great companion for her. An acquaintance of Georgia's gave Tag to her unannounced as a way to pay off a debt. Georgia wasn't planning to adopt a dog but she didn't have the heart to say no. Now, Tag has grown into a very large, strong dog who is simply too much for Georgia to handle physically.
Georgia really loves Tag but is selfishly seeking a home for him where he can run and play and live his life to its full potential.
GSRSV has met Tag and is placing him as a "Program Dog." This means that GSRSV is placing Tag through its adoption program as if he was one of our own dogs, even though he will remain with his person until he's adopted.

Tag is located in the Oak Park section of Sacramento.
Tag's adoption fee is $300; this includes his neutering. Tag is scheduled to be neutered on December 29. If Tag is adopted prior to Dec 29, an additional $300 refundable neuter deposit will be required to ensure that the adopter follows through with Tag's neuter appointment.
Posted 11-20-22; updated 2-2-23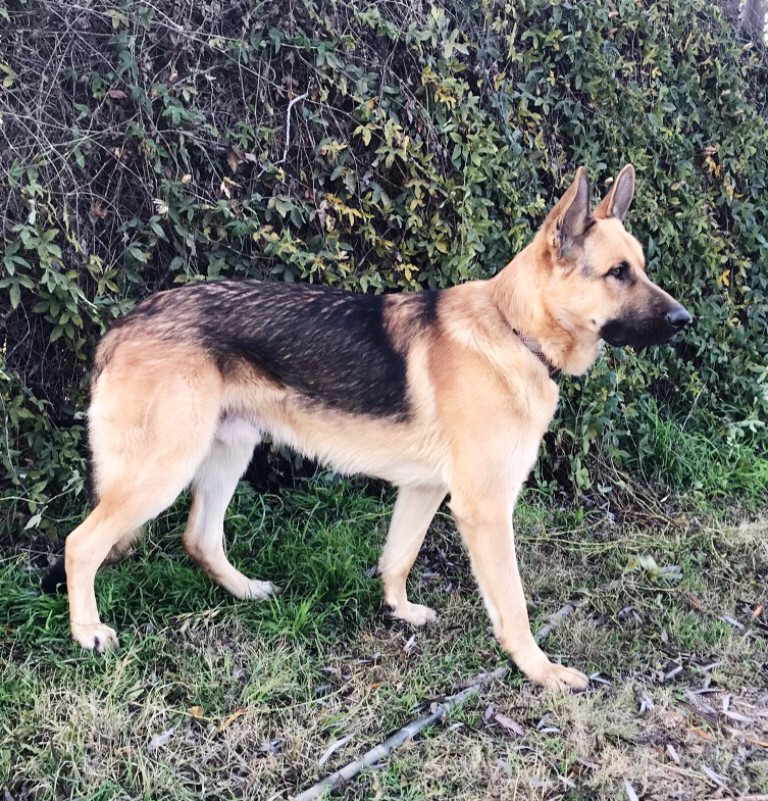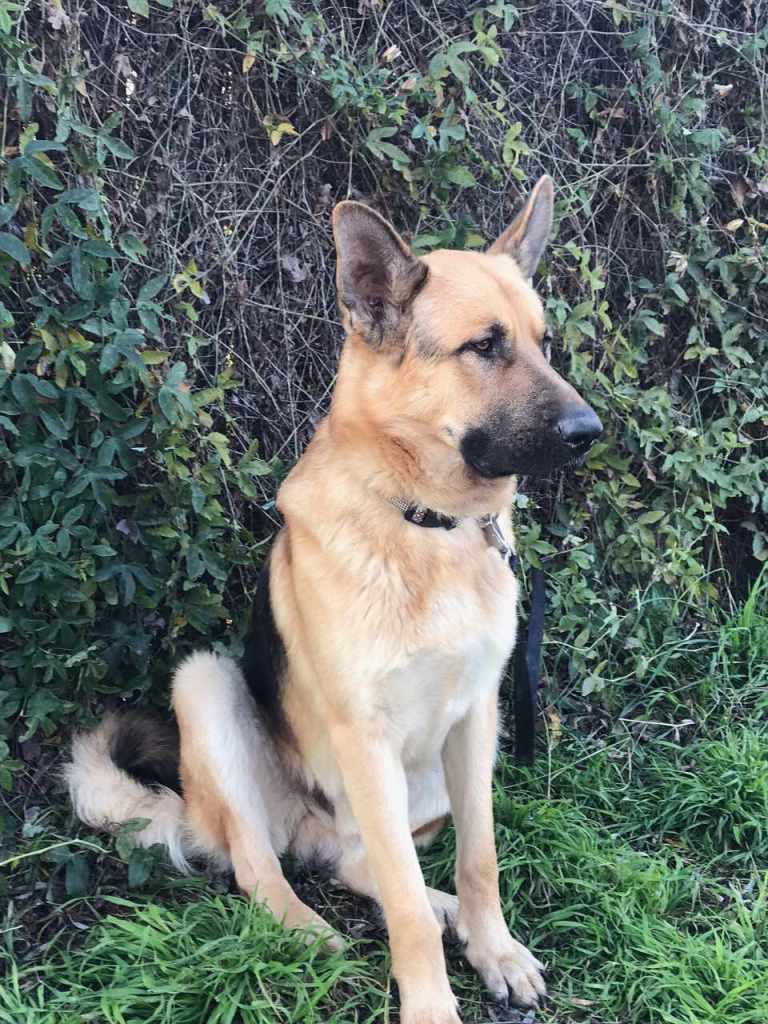 Adopted 2-19-23!
"Chief" is a stunning 100-lb, approx 1½-yo neutered male GSD who is friendly, devoted and obedient. Chief has a nice square back and moves with fluid motion--i.e, no signs of hip dysplasia at all.
Chief is affectionate and loves to be petted. He likes to cuddle for a bit, but being the classic GSD he is, wants to "get back to work" after awhile.
Chief is friendly with strangers he meets, though I imagine that he'll be a good protector once he gets into a permanent home. I have not observed Chief around children but there's nothing in his temperament that suggests he wouldn't be fine with young kids. He is, however, quite a large dog and still has some growing to do.
Chief is good with other dogs but is not particularly playful; he's more of the serious type GSD. He will surely be fine as an only dog.
I have not observed Chief with cats. I will only consider a home WITHOUT CATS for him.
Chief is mostly housetrained but does still occasionally mark on objects in the house. Chief is getting neutered on Dec 29, so hopefully that will eliminate his marking.
Chief might have some separation anxiety if he's the only dog and left alone in the house. Chief does NOT like to be crated--the one time I left him in a crate he pulled the metal grate door so strongly it bent the hinges!
Chief likes to go for car rides and is a polite passenger.
Chief was found at a fire station in Citrus Heights in late November and efforts to locate his owner were unsuccessful. Chief had blood in his urine and the second person to foster Chief did not want to take on the financial responsibility of bringing Chief to a vet. GSRSV took Chief in on Dec 5, had him examined and treated, and he's fine now.
Chief is located in Roseville. His adoption fee is $300.
Posted 12-28-22; updated 2-2-23