Seeking rental housing that will allow you to keep your German Shepherd?
Click on the either of the two logos below--you might find pet-friendly, affordable rentals in your area. (With PadMapper, be sure to click on the "More

Filters" button,

then select "+ Dogs.")
As of Jan 1, 2019, GSRSV is no longer placing other people's dogs through my organization due to a pending move to Central Oregon. However, I am still listing dogs for adoption directly from their owners on the Owner Placement page of this Website (see below for instructions).
Also, see the "Rehome My Dog" page of Bay Area German Shepherd Rescue's Website: www.bayareagsr.org/our-dogs/47-dog-surrender.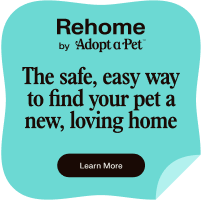 If you are seeking more options to rehome your dog than those GSRSV has to offer below, check out Adoptapet.com's "Rehome" program. Click on the box
at left.

GSRSV still offers the "Owner Placement" option:
GSRSV can list your dog for adoption on the "Dogs Available for Adoption through Owner Placement" page of its Website. This page serves as an "advertising" platform. To advertise your dog through GSRSV, I only ask that the dog not be seriously aggressive. It's OK if the dog is a mixed-breed, and it need not be spayed or neutered (though I prefer that it is). When you use the Owner Placement option, you screen all prospective adopters, and I provide no assistance other than listing the dog on my Website (except perhaps for referring people who are seeking to adopt a dog if I feel the match is right).
If you choose to place a dog on your own, I encourage you to screen all potential adopters carefully. Try to ensure that a potential adopter is not only a responsible individual with a safe, secure home for your dog, but that he or she knows the basic characteristics of German Shepherd Dogs. Consider asking some questions framed around the information provided on the page "Is a German Shepherd the Right Breed for You?"
GSRSV charges $20 to list your dog on the "Dogs Available for Adoption through Owner Placement" page of my Website. I will keep your listing on the Website as long as is necessary to find your dog a home.
I will list your ad within a few days after I receive both the necessary information (see below) and your listing fee. Listing fees are not refundable once I have posted your ad.
To list your dog, perform the following steps:
1. E-mail (to bab43@msn.com) a picture and description of your dog. Include the following information: the dog's name, age, sex, and size; its temperament and any health or behavioral problems; how long you've owned it and any training it's received; how it is with kids, cats and other dogs; what kind of home you think would be best for your dog; and the fee you want, if any. Be sure to provide your name, phone number, and your e-mail address (if you have one).
2. Mail a check for $20, made payable to GSRSV. Send the check to:
GSRSV
P.O. Box 652
Pleasant Grove, CA 95668
Courtesy-Posting Dogs for Other Rescue Groups & Individuals
If you are a rescuer and have a dog that you would like me to post on my Website, I'd be happy to do that for you on the "courtesy page" of my Website: Dogs Available from Other Area Rescue Groups/Individuals.
Additionally, if you are an individual who has rescued a dog on your own or who has found a dog, and need to find that dog a permanent home, I can post the dog on the courtesy page of my Website. Just call Brian at 916-655-3125, or send an e-mail message to bab43@msn.com w/ a picture and description of the dog, and I'll post the dog on the courtesy page of my Website. For both rescuers and individuals, you will serve as the contact for the dog and all screening and contracting will be up to you when I list a dog for you on the courtesy page of my Website. There is no charge for this service.
This page was last modified February 06, 2023.